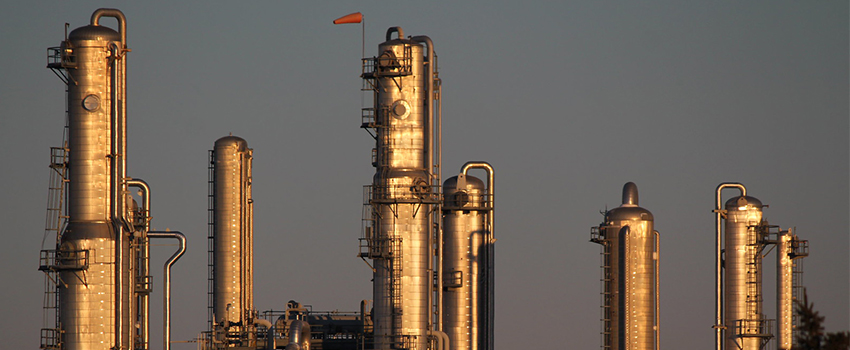 What do chemical engineers working in robotics and manufacturing do?
Chemical engineers use their knowledge of physics, math, chemistry, materials & energy balances, thermodynamics, kinetics, and transport phenomena to transform raw materials into useful products. Their roles typically entail designing new processes, improving existing ones, reducing manufacturing costs and developing new products.
What problems are chemical engineers trying to solve in robotics and manufacturing?
Chemical engineers design, build and analyze manufacturing processes ranging from nano- and molecular-scale systems to those at mass-production facilities. In the lab, ChemE's are increasingly employing robotic high-throughput instrumentation to streamline the development of new materials.
Historically, chemical engineers have solved problems in the manufacturing of products such as fuels, plastics and food ingredients. Now, they are also involved in making new formulations for all kinds of complex products including cosmetics and biomaterials.
While a chemist might be able to make any one chemical involved in product formulation, it takes a chemical engineer to understand the complex interactions between all the ingredients in a final consumer product and to optimize these interactions to make a product with a specific property. Some problems include:
How do we transform low-value materials into high-value products?
How do we make a product in a scalable manner without a negative impact on the environment?
Can we optimize a process to be more economical, environmentally friendly, and safe?
How can we use nano- or micro-robots and sensing devices to make our world safer, healthier, and more efficient?
How can we reformulate mixtures to concentrate them and reducing shipping impacts, while maintaining quality and stability?
How do I decide between Bioresource Science & Engineering and Chemical Engineering?
ChemE and BSE are both good places for someone interested in process engineering and manufacturing of natural resources into fuels and products. Both majors provide the fundamentals of transport processes and process design. BSE majors focus more on the specific application of natural products chemistry, biomaterials, and bioconversion to develop products and fuels from renewable resources. ChemE majors have a strong foundation in the principles that underlie these processes but are less specialized on them and chemical engineers seek employment in a wider range of industries.
The two degrees are closely enough related that it is sometimes possible for highly motivated students to complete both degrees in a 5 year timespan. Students from both departments also frequently apply for master's programs in chemical engineering.
Customize ChemE to YOUR interests
ChemE is a cohort-based program, which means you never have to worry about when to take core classes or whether there will be space when you need it. You'll be able to focus on developing relationships with your classmates, faculty members, and advisers, as well as customizing your experience to your interests. While ChemE is a broad degree, we provide guidance to help students identify and pursue their interests while developing the strong fundamental perspective that all ChemEs bring. We encourage students to take ownership of their education to make the most of their time in chemical engineering.
Engineering Electives
All ChemE students take at least 16 credits of engineering electives. Some students choose a broad array of electives and others choose to focus most of their electives in a specific area of their interest, called an optional focus area. The ChemE major naturally includes a number of manufacturing-focused courses within the core courses, which can be supplemented by elective choices. Here are some examples of engineering electives that relate to manufacturing and robotics.
BSE 430: Papermaking Processes (4)
CHEM E 341: Energy and Environment (3)
CHEM E 481: Process Optimization (3)
CHEM E 482: Advanced Topics in Process Control (3)
CHEM E 591: Robotics and Control Systems Colloquium (1)
CHEM 429: Chemical Separation Techniques (3)
Areas of Knowledge
All ChemE students take at least 24 credits of Areas of Impact, including at least 3 credits of DIV, 10 credits of VLPA, and 10 credits of I&S. We encourage students to consider using these credits as another way to deepen knowledge and gain a breadth of perspective on the areas of interest to them. Here are some examples of Areas of Knowledge courses that relate to robotics and manufacturing.
HSTEU 251: Events that Shook Modern Europe: From the French Revolution to the EU (I&S)
GEOG 435: Industrialization and Urbanization in China (I&S)
SOC 466: Economic Sociology (I&S)
GEOG 208: Geography of the World Economy: Regional Fortunes and the Rise of Global Markets
INFO 402: Gender, Race and Information Technology (I&S, DIV)
CHID 370/COM 302: The Cultural Impact of Information Technology (I&S or VLPA)
Study Abroad
A large proportion of students study abroad while earning their chemical engineering degrees for both summer and autumn quarters, with courses counting toward engineering electives and core coursework. Manufacturing related programs include:
Chemical Engineering China: Unit Operations Labs I & II
Chemical Engineering Denmark: Unit Operations Labs I & II
Engineering Rome: 3,000 years of Engineering contributions to infrastructure and society
Student Organizations and Opportunities
Common RSOs that ChemE students participate in include:
Undergraduate Research
Over 70% of BS ChemE students participate in undergraduate research while earning their degrees. Students can do undergraduate research in any engineering lab and count up to 9 credits toward engineering electives for degree requirements. Most research opportunities are not posted on the website. The best way to get involved is to read about the faculty on our research pages and email the professor you're most interested in researching with to see if they have space in their lab. ChemE faculty are on the cutting edge of research in the following areas:
Nanostructured materials
Quantum materials
Defect engineering
Luminescent and plasmonic materials
Hybrid and hierarchical materials
Directed assembly
Reaction engineering
Multiscale simulations & modeling
Predictive control
High-throughput imaging and analysis
Sensing technologies
Capstones
All ChemE students take a senior design course or a capstone course.
Standard Option
The standard capstone option is taking CHEM E 486: Process Design II. Students work in teams to design complex systems with consideration to economic and other constraints. Examples:
Modular distributed ammonia synthesis in the U.S. corn belt (2020)
Solar Cell Manufacturing Facility (2015)
Manufacturing pathways to earth-abundant solar cells (2014)
Industry Capstone Program
The Industry Capstone Program brings together UW students and companies to tackle real-world, multidisciplinary engineering problems. Sponsors bring in projects from their companies and provide support to teams of creative, talented engineering students who will design and build innovative solutions. Examples:
Optimized Beverage Concentrate System (Talking Rain- 2022)
Characterization and Application of Recycled Carbon Fiber (Boeing - 2022)
Metal AM Finishing Fluid Flow Modeling (Boeing - 2022)
Thermoplastic Additive Manufacturing Finishing Process (Boeing - 2022)
Logistics of the Implementation of a Concentrate Kit (Talking Rain - 2021)
Entrepreneurial Design Sequence
This is a three-quarter design sequence in which small teams of ChemE students research, design, and develop a business plan for a new product. Teams participate in the NW Business Plan Competition. Students receive credit for both the capstone and engineering electives. (CHEM E 499, CHEM E 497) Examples:
Options, Focus Areas, and Curriculum Plans
Nano and Molecular Engineering Option
The NME option introduces students to nanoscale principles in molecular engineering, provides hands-on experience and stresses the interdisciplinary of this field. Students who complete the option have it noted on their transcript after graduation.
Optional Focus Areas
Students who wish to deepen their knowledge in a specific subject may pursue an optional focus area, combining engineering electives, undergraduate research, study abroad, internship, and capstone experience to create an individualized learning experience that is in-depth in a specific area. Students who complete a focus area will receive a certificate at graduation.
Many students with an interest in robotics and manufacturing pursue an optional focus area in Polymers, Composites, Colloids, and Interfaces.
Where do ChemE alumni go to work in robotics and manufacturing?
Common employers:
Intel
Micron
Boeing
IM Flash
Clearwater Paper
International Paper
PepsiCo
Starbucks
W.L. Gore
Talking Rain
Common titles in industry:
process engineer
project engineer
test engineer
manufacturing engineer
quality engineer
procurement engineer