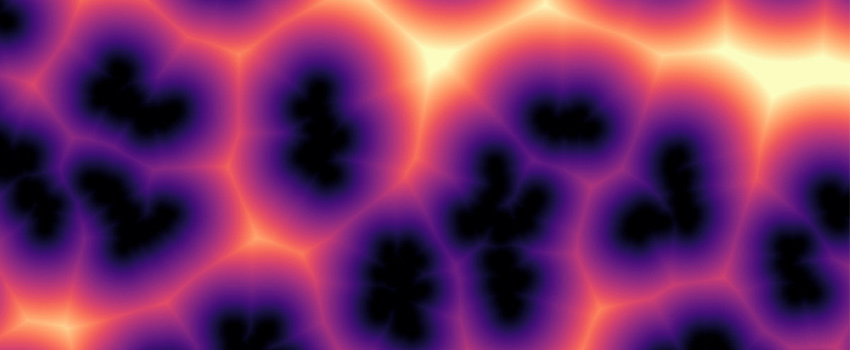 Overview
The skills of chemical engineers are uniquely suited to developing next-generation solutions to persistent health challenges. UW ChemE boasts strong cross-disciplinary collaborations with medical researchers in the design of smarter therapeutics, targeted drug delivery systems, and improved diagnostics. Our faculty also conduct research in systems and synthetic biology, as well as metabolic, biomolecular, and protein engineering.
Image: A Euclidean distance transform of a confocal microscopy image of microglia cells taken in a rat organotypic brain slice model. The colors are scaled to represent the distance away from a cell surface. Created by Chad Curtis for the 2019 Science & Engineering as Art Competition
Research Topics
Regenerative medicine
Neuromedicine
Nanomedicine
Metabolic engineering
Synthetic biology
Systems biology
Biomolecular engineering
Protein engineering
Environmental engineering
Medical diagnostics
Sensing technologies
Featured Research Clusters
Biomaterials
Faculty: Baneyx, DeForest, Nance, Ratner, Posner, Pozzo
With several field-defining visionaries in the biomedical sciences having cultivated their careers in UW ChemE, our department holds one of the longest and richest histories in biomaterial innovation. With creativity more fervent than ever, we employ current tools to engineer functional tissue, guide immune responses to medical implants, and probe stem cell fate in 4D.
Synthetic biology
Faculty: Bagheri, Beck, Carothers, DeForest, Marchand
Deciphering, retooling, and reinventing the tricks of basic biology, our faculty engineer versatile approaches to synthesize industrially and medically important chemicals and materials at scale. These efforts are complemented with advanced computational modeling to shed light on the inner workings of cellular bioprocesses.
Advanced therapeutic delivery
Faculty: DeForest, Nance, Ratner, Pozzo
From coercing nanoparticles past the blood-brain barrier, to identifying and treating disease with ultrasound theranostics, to confining therapeutic payload delivery to tissue-barcoded bodily locations, the University of Washington is developing real-world solutions to advance medical treatment. Studies are performed in close collaboration with field-leading partners in UW Medicine, Fred Hutch Cancer Research Center, and Seattle Children's Hospital.
Campus Opportunities
Institute for Stem Cell and Regenerative Medicine
ISCRM's mission is to turn fundamental discoveries in stem cell science into therapies for patients
Center for Dialysis Innovation
CDI develops and tests novel treatment technologies in order to improve the health and well-being of people receiving dialysis therapy
Institute for Protein Design
The institute develops and applies methods for designing a whole new world of synthetic proteins to address today's complex challenges
Center for Synthetic Biology
The center's mission is to provide a collaborative and interdisciplinary environment for research, education, innovation, safety and responsibility in synthetic biology at the UW and in the Seattle area
Hollomon Health Innovation Challenge
The Hollomon Health Innovation Challenge is an entrepreneurship competition run by the UW Foster School of Business that gives students the opportunity to come up with meaningful solutions to big problems the world faces today related to health
Learn More
Careers in nanomedicine and drug delivery
By Elizabeth Nance