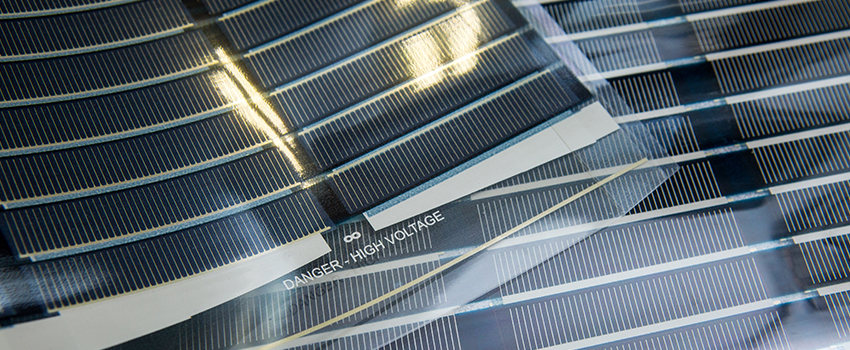 What do chemical engineers working in the environment, energy, and sustainability do?
Energy, water, food, and the environment are all interconnected. Chemical Engineers use their knowledge of physics, math, chemistry, materials & energy balances, thermodynamics, kinetics, and transport phenomena to sustainably provide the critical resources we need while protecting the environment from irreparable damage. This work involves transforming raw materials into useful products, generating energy, measuring contaminant concentrations, capturing emissions, and generally developing new processes to protect the planet.
Innovations made by chemical engineers cut across energy sectors, the environment, and sustainability in all fields. From water filtration and treatment innovations, to more efficient photovoltaics and batteries, to increasing efficiency of all processes, chemical engineering produces cutting-edge solutions to today's most pressing societal problems.
How does chemical engineering relate to the environment, sustainability, and energy?
Problems in the energy, environment, and sustainability space inherently involve a combination of molecular/chemical/materials science/physics behavior and process-level systems understanding. e.g. Solar energy generation is a cost-benefit analysis: it's not just about making a material that can absorb light. It's about making a device that can be created, shipped, and installed cost-effectively enough to warrant replacing silicon. In carbon capture, it's not just about making materials that absorb CO2. It's about creating a process that uses those materials and regenerates them in a cost-effective way, with sufficiently low energy that they consume less CO2 than they produce. Chemical engineers are also involved in developing new materials from sustainable sources aimed at reducing reduce waste without compromising on performance

Chemists create reactions. Chemical Engineers study whether those reactions can be performed efficiently enough to be worth implementing. Chemical Engineers design processes to make a reaction cost-effective enough to be competitive with existing technology. Chemical Engineers understand what happens to those reactants and products after they are used, and whether they can be easily disposed of later. Chemical Engineers design tools that allow those reactions to be performed at scale.
No other major/specialization combines this molecular-level understanding with the systems-level perspective.
What problems are chemical engineers trying to solve in sustainability?
Chemical engineers design, build and analyze processes that range in size and time, from the nano-scale to entire manufacturing plants that cover city blocks. ChemE's work on:
How can we scale up a process developed in a lab to reach as many people as possible?
Can we optimize this process to be more economical, environmentally friendly, and energy efficient?
How can we replace petroleum based products, including plastics, with plant-based materials that perform as well or better?
How can we reduce waste and shipping weight by concentrating products without sacrificing quality or stability.
How can we reduce pollution, including microplastics, and manage waste more sustainably?
How can we improve energy efficiency, energy storage, and energy conversion for fuels and materials?
How can we improve carbon capture and storage and water availability technologies?
Where do ChemE alumni work in environment, sustainability, and energy-related industries?
ChemE alumni are involved in water treatment & air quality management, sustainable consumer packaged goods, clean energy including battery innovation, solar energy, fuel cells, materials development, sustainable products for buildings, nuclear power, and more traditional energy fields like oil and gas.
Common employers:
Puget Sound Energy
King County Wastewater
Seattle Public Utilities
Sironix Renewables
Membrion
Puget Sound Naval Shipyard
Phillips 66
BlueDot Photonics
Trinity Consultants
Sedron Technologies
Washington River Protection Solutions
NVL Labs
Common titles in industry:
process engineer
project engineer
test engineer
manufacturing engineer
quality engineer
procurement engineer
consultant
Student opportunities & project examples in ChemE
Options, Focus Areas, and Curriculum Plans
See the Energy Systems and Environmental Engineering in our curriculum.
Undergraduate Research
Participate in undergraduate research with a faculty member advancing solutions in energy systems and advanced materials and interfacial engineering.
Student Organizations and Opportunities
Common RSOs that ChemE students participate in include:
Student Capstones
Participate in an industry capstone project or special design project. Examples: