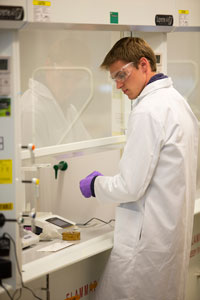 Our Master's program offers a streamlined educational experience that bolsters knowledge and professional skills in chemical engineering. Students work under the guidance of our world-renowned faculty, learning about a range of fields while receiving targeted guidance in a specialty area.
We offer the following M.S. degree programs:
Thesis and non-thesis programs
Transcriptable data science degree option
Capstone project requirement
Streamlined program intended for industry career preparation
M.S. students enroll in the same courses as our Ph.D. students. The program covers basic subjects important to all chemical engineers, including thermodynamics, transport phenomena, kinetics and applied mathematics, along with coursework tailored to student interest.
All students in the research track conduct innovative, original research in faculty-run labs. All students in the data science track complete a capstone project and specialized coursework at the intersection of data science and chemical engineering.
The Master's degree typically requires one to two years to complete, depending on the intensity of study and whether a thesis is produced. The data science track can be completed in three quarters of study.
We welcome students with undergraduate degrees in chemical engineering, as well as in other related STEM fields such as chemistry, mechanical engineering, and materials science and engineering. Students entering with a degree other than a BS ChemE, however, may require additional coursework, thereby adding time to the degree.
Program Options and Requirements
Course and degree requirements
Complete 39 credits of coursework for the research track, 36 credits for the data science track

Complete at least 18 graded credits of graduate-level coursework in classes numbered 500 - 599

Complete at least 6 credits of independent study for those on the non-thesis track, and 9 credits of independent study for those who wish to apply for the thesis track

Achieve at least a 3.0 GPA
For a full account of the requirements, please refer to the MS handbook (pdf), pp. 27-28
Research Track
Non-thesis Option
This option is intended for students who wish to hone their research skills but acquire an advanced degree on a fast timeline. Non-thesis M.S. students complete an independent project —experimental or theoretical — under faculty supervision. The project scope is more limited than that of a thesis so that it can be completed in two or three quarters. The student must submit either a final written report or a draft of an article suitable for publication. The student must also give a final oral presentation to the supervising faculty member and obtain approval of this and the written element.
Thesis Option
All students begin on the non-thesis track. Those who wish to complete a thesis must petition for permission at the end of their first year. Completing a thesis is highly recommended for students who wish to apply to Ph.D. programs either in chemical engineering or related fields. Once approved, additional requirements are as follows:
Complete at least 12 thesis credits
Write a thesis to the satisfaction of the primary adviser and submit the thesis to the Graduate School
Successfully defend the thesis before the student's primary adviser and one or two other faculty members

Data Science Track
Launched in 2019, this track offers students applied data science instruction and project experience in the context of chemical engineering and molecular science. Students in the data science track receive a rigorous graduate-level education in key areas of chemical engineering, while also gaining experience in Python scientific programming and cloud computing, statistics and machine learning, and computational molecular science. This program is intended as a streamlined practical education for students interested in a career in industry, rather than in a path to a Ph.D. program.
Capstone Requirement
The team-based capstone project comprises 7 of the 39 total credit hours* for the DS track. It is intended to cement skills and help build a data science portfolio. Students are assigned to project teams at the end of Winter quarter, and the capstone projects run through Spring quarter. Each capstone project addresses a specific data science challenge of an external industry partner, nonprofit, national lab, or UW faculty research team. Student teams may also work with faculty or external partners to develop their own capstone projects (subject to approval of the ChemE graduate committee).
* Students with STEM degrees other than ChemE are welcome and encouraged to apply to the data science track but may be required to take courses for one additional quarter.
Student Testimonial
"In the 2 months since my team completed its data science capstone project, we have registered as a company, and participated in both a boot camp for commercialization of biomedical products and the NSF's Innovation Corps. We've discovered a unique niche in the market among healthcare professionals and grown our team. Now we're working with our mentors to apply for higher level grants, protect our IP, and apply for necessary patents and licenses. In the coming months, we plan to pilot our product and begin beta testing with our customers.

We owe all that we've accomplished to the data science capstone program. Thank you for all the work you put into it — it was truly impactful."

— Yousef Baioumy, Team Gene2Risk
Cost of Study
See the UW's Office of Planning & Budgeting website for more information. Use the Graduate Tuition Dashboard to display the current tuition and fees for the M.S. in Chemical Engineering. Please note that Master's students are all self-supporting. We cannot offer TA or RA appointments to M.S. students. For information on financial aid, please visit the Student Financial Aid website.