Whether it's delving into research in world-class labs, mastering data science techniques, or tackling real-world problems from the industrial sector, the master's program at UW ChemE gives you the opportunity to follow your passion and propel your career.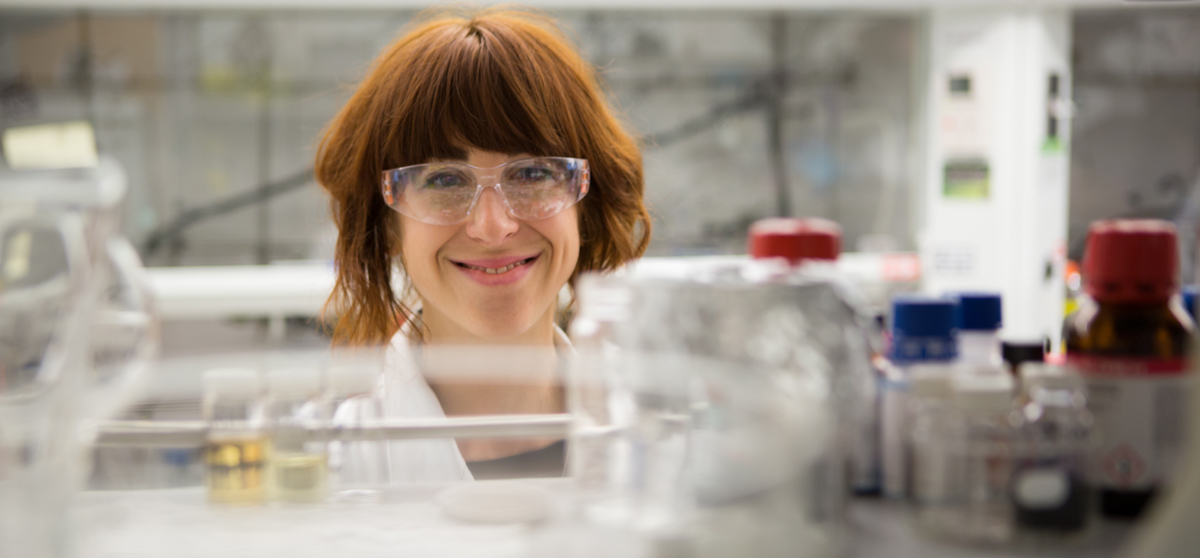 As an M.S. student in UW ChemE, you can earn a degree in 1 to 2 years, depending on how you tailor your experience. In a single year (3 quarters), you can complete a chemical sciences-focused data science education in an active learning setting. Students choosing this option will participate in an industry-sponsored capstone project to gain real world experience with relevant research problems.
In the 2-year path, you'll become part of UW ChemE's high-profile research activities and complete a research thesis under the guidance of our world-class faculty.
Or have the best of both worlds: supplement your original research with advanced data science training and the capstone experience. Many of our students choose this route and complete an M.S. with a thesis and transcriptable data science option in 6 quarters.
Tailor a UW ChemE master's degree to meet your professional development goals
 
Data Science focus
Research focus
Research M.S. with data science option
 
Program length
1 year (3 quarters)
2 years (6 quarters)
2 years (6 quarters)
 
Coursework
Graduate level ChemE curriculum + advanced data science training
Graduate level ChemE curriculum
Graduate level ChemE curriculum + advanced data science training
 
Active learning
Industry-sponsored capstone project
Research in a ChemE faculty lab
Research thesis AND industry capstone project
 
A good choice for...
Students preparing for a career in industry
Students seeking a bridge to a PhD in chemical engineering or related field
Students seeking a bridge to a PhD that leverages data science in chemical engineering
* Applicants can state a preference for their degree option when applying but are not bound to that choice
Courses and Requirements
M.S. students enroll in the same courses as our Ph.D. students. The program covers basic subjects important to all chemical engineers, including thermodynamics, transport phenomena, kinetics and applied mathematics, along with coursework tailored to student interest.
M.S. degree requirements
Complete 39 credits of coursework for the thesis option, 36 credits for the data science option
Complete at least 18 graded credits of graduate-level coursework in classes numbered 500 - 599

Complete at least 9 credits of independent study for the thesis option
Achieve at least a 3.0 GPA
Additional requirements for the thesis option:
Complete at least 12 thesis credits
Write a thesis to the satisfaction of the primary adviser and submit the thesis to the Graduate School
Successfully defend the thesis before the student's primary adviser and one or two other faculty members

Additional requirement for the data science option:
Complete a team-based capstone project, comprising 7 of the 39 total credit hours. Students are assigned to project teams at the end of Winter quarter, and the capstone projects run through Spring quarter. Each capstone project addresses a specific data science challenge of an external industry partner, nonprofit, national lab, or UW faculty research team. Student teams may also work with faculty or external partners to develop their own capstone projects.
Course listings
Graduate courses are those at the 500 level or above. Courses at the 400-level are also appropriate for graduate students; however, students must obtain departmental approval for these courses to count toward a graduate degree. Taking outside department courses is encouraged; check with the department/s for more information on the courses that count toward a specific degree.
---
   

M.S. Student Handbook

The handbook lays out the milestones and requirements for earning a master's degree in ChemE.

Download the pdf >>
Financial Support
All Master's students in chemical engineering are self-supporting, and unfortunately we cannot offer TA or RA appointments to M.S. students. However, we can help you connect with financial aid resources and funding sources that students have used in the past.
Take the next step
Learn about our application process and apply!