What is Chemical Engineering?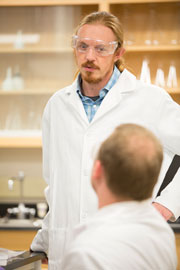 Chemical engineers study, design and operate processes to provide food, water, energy, clothing, medicine and materials.
These processes transform raw materials from the environment into desired products. They also return spent products and by-products to the environment in an ecologically sustainable manner.
The advances of chemical engineering can be found all around us: from innovations and improvements that lead to new medicines, electronic devices, and high-performance materials to new technologies for cleaning the environment and feeding and clothing the world's people.
Chemical engineers play a crucial role transforming raw material into useful products-and not just necessities like food, water, and clothing, but petroleum, pulp and paper, pharmaceuticals, consumer products, cosmetics, biotechnology, electronic materials, nuclear chemical engineering, polymers, composites, and coatings.
In addition to making these chemicals and finished products, chemical engineers devise recycling and reclamation processes for consumer products at the end of their life cycle. These processes can include everything from large chemical plants and refineries down to the small processes involved in biochemical engineering.
In every way, our field works to engineer the chemistry of people's lives.
Chemical Engineering students share what it's like to be a UW ChemE.