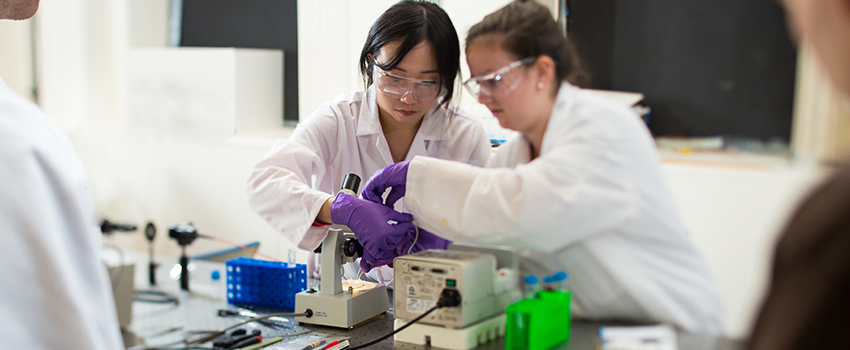 What do ChemE's do in the field of health & medicine?
Chemical engineers use their knowledge of physics, math, chemistry, materials & energy balances, thermodynamics, kinetics, and transport phenomena to transform raw materials into useful products. Their roles typically entail designing new processes, improving existing ones, reducing manufacturing costs and developing new products.
Innovations made by chemical engineers are reflected in medical advances from devices and imaging to drug delivery and manufacturing. Chemical engineers are able to understand the way multi-component processes interact in a complex system across length and time scales, which makes them especially well suited for engineering applications for the human body. For example, they may model fluid flows such as blood through the heart to learn how stress on the vessel wall changes; design treatments that can reach a diseased site in the body; or engineer materials that can replicate spatial and temporal properties of a tissue.
What problems are chemical engineers trying to solve in health & medicine?
Chemical engineers design, build and analyze processes at a range of size and time scales. ChemE's work on:
How can we scale up a process developed in a lab to reach as many people as possible?
How can we deliver drugs right to the site they're needed AND produce them in a way that people can afford to take them?
Can we optimize processes to be more economical, environmentally friendly, and safe?
Where do ChemE alumni go in the field of health & medicine?
ChemE alumni work on improving drug delivery, imaging, diagnostics, and other problems requiring an understanding of transport processes and chemical reactions within the body. Many alumni pursue careers in synthetic biology, biotechnology, and pharmaceuticals. We also have alumni who are pursuing careers as medical doctors or as health-focused researchers in academic institutions.
Common employers:
W.L. Gore
Juno Therapeutics
Just Evotec Biologics
Bristol Myers-Squibb
National Institutes of Health
Philips Healthcare
Common titles in industry:
process engineer
project engineer
test engineer
manufacturing engineer
quality engineer
procurement engineer
Student opportunities & project examples in ChemE
Options, Focus Areas, and Curriculum Plans
See the Bio & Biomedical Materials, Interfaces and Systems focus area and Nanoscience and Molecular Engineering (NME) Option in our curriculum. Students interested in medical school can check out our Pre-health Planning page.
Undergraduate Research
Participate in undergraduate research with a faculty member advancing solutions in health & biotechnology. Read about Hugo Pontes, BS '20: Research as a platform for change
Student Projects and Capstones
Participate in an industry capstone project or in the Engineering Innovation in Health program. Examples: