About the Department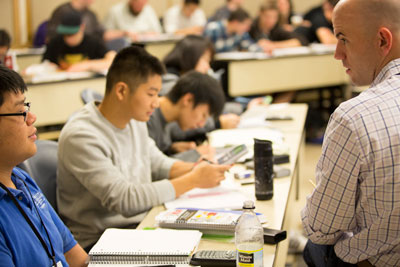 Educating top-quality engineers is the department's highest priority. Our students work with internationally-recognized faculty and participate in specialist Ph.D. training in molecular engineering, nanotechnology and clean energy. ChemE faculty and students play key roles in interdisciplinary centers on campus including the Molecular Engineering and Sciences Institute, the Clean Energy Institute, the eScience Institute and the Center for the Science of Synthesis Across Scales. Through continuous curriculum improvements, world-class research and startup creation, we are charting the future of chemical engineering.
Values
The University of Washington Chemical Engineering community values diversity and inclusiveness, collegiality and respect. Quality and excellence are prized, together with multidisciplinary thinking and entrepreneurial spirit. The department strives for continuous improvement for creativity and innovation in both undergraduate and graduate research and education.
Mission
To educate the next generation of visionaries, prepare students for leadership in diverse careers, create knowledge, and provide multidisciplinary solutions to broad societal problems.
Vision
Knowledge and solutions for a changing world
Education and Research Excellence
#23 in U.S. News & World Report's 2021 Best Graduate School rankings
Undergraduate concentration in nanoscience and molecular engineering, along with seven other focus areas
Advanced data science option for graduate students
Intellectual property in the following areas

Electrochemical printing
Methane bioconversion
Nanocomposites incorporating
Nanocrystalline inks for electro optical devices
Non-fouling biomaterials
Non-linear electrochemical impedance spectroscopy (NLEIS)
Organic light emitting diodes (OLEDs)
Porous biomaterials for tissue engineering
Faculty
26 core teaching and research faculty
14 endowed positions
16 joint or adjunct faculty with other UW engineering, medicine, and science departments
19 affiliate faculty from industry and external research and educational institutions
17 post-doctoral research associates
Students
Three NSF Graduate Research Fellowship and Honorable Mentions (2017)
Four named to the Husky 100 in 2017, two in 2018
UW Board of Regents Student Member 2016-17
UW Dean's Medal for Academic Excellence winner in 2016, 2014, 2012, and 2011
Three Mary Gates Award winners
Two NSF Graduate Research Fellows
Two NSF IGERT Big Data Fellows
Three UW Clean Energy Institute Fellows
| 2017-2018 Academic Year | BS | MS/Ph.D. |
| --- | --- | --- |
| Enrollment | 174 | 104 |
| Degrees Awarded | 64 | 50/9 |
| Men | 66% | 71% |
| Women | 34% | 26% |
| Underrepresented Minorities* | 3% | 3% |
*African American, Hispanic American, Native American, Hawaiian/Pacific Islander
FY17 Expenditures by Source of Income
Grants and contracts: $9.7M
State funds: $4.5M
Gifts and endowments: $1.3M