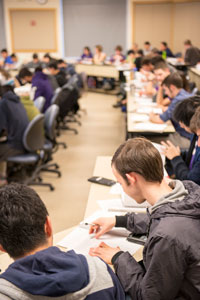 Chemical engineers are versatile, collaborative and innovative. Chemical Engineering is one of the most challenging and rewarding careers you can choose. One of the hallmarks of a chemical engineering education is flexibility. Students study chemical processes at the molecular level and the chemical plant level and gain an education deeply grounded in mathematics, chemistry, physics, biology, and materials science . . . not to mention engineering itself. From innovations and continual improvements made by chemical engineers flow every new medicine, electronic device and high performance material, plus new technologies for cleaning the environment and feeding and clothing the world's people.
The Bachelor of Science in Chemical Engineering (B.S.Ch.E.) is a highly marketable, professional degree that prepares undergraduate students for employment in industry or graduate study. Chemical engineering is a discipline noted for the variety of opportunities available to its graduates, as well as high salaries and advancement opportunities. Students earn these benefits through their years of studying the challenging subject matter. In particular, it requires good problem-solving skills, hard work, and a sense of dedication.
What is Chemical Engineering?
Why Choose ChemE?
Careers
Research Areas
Faculty
Advising
Current and prospective students are encouraged to meet with an advisor to discuss admission, graduation, degree planning, and career planning. Our advisers will advise students on most course and scheduling matters and will assign each student to a faculty mentor for advice on technical courses and professional matters.
Admissions
Any student interested in pursuing a B.S.Ch.E degree must first be admitted by the University of Washington. Scheduling an appointment with the Department advisor before applying to the program is recommended. We encourage all students with an interest in our program to apply.
Curriculum
Once admitted to the program, ChemE undergraduate students join a cohort of Chemical Engineering students who move through the challenging curriculum together. ChemE core courses create a strong foundation for all students, while engineering electives allow students to tailor their experience to their interests. A full-time student will need to devote a minimum of 30 hours per week to their studies. Degree completion typically takes four years, provided the student enters the college with prerequisites fulfilled.
Curriculum
Four-year Plan of Study
Student Life
Learn more about resources for students, student organizations, mentoring, diversity, and everything else that impacts student life. More »
Scholarships & Financial Aid
ChemE students may apply for several scholarships. More »
Policies
Find information on ChemE policies.