Department welcomes Hugh Hillhouse, Rehnberg Professor Chair of Chemical Engineering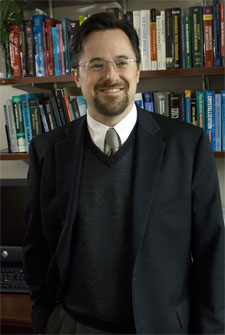 The department welcomed Hugh W. Hillhouse as the newest Rehnberg Professor Chair of Chemical Engineering in the fall.
"The department and the College of Engineering are on a great vector," Hillhouse said. "The combination of the new facilities and resources associated with the Institute for Molecular Engineering and the great potential for collaborations both in the department and across the University were too much to resist."
Hillhouse brings an interest in applying molecular engineering to develop low-cost solar cells. These solar cells would make use of substances such as nanocrystal inks and quantum dots or quantum wires. "Controlling surface chemistry at the molecular level is the key," Hillhouse said.
Hillhouse, who grew up in east Tennessee, previously was a University Faculty Scholar and Associate Professor at Purdue University and also held an adjunct position at the National Renewable Energy Laboratory.
Hillhouse earned his doctorate in chemical engineering in 2000 from the University of Massachusetts and his bachelor's degree in 1995 from Clemson University. He he earned his master's degree in chemical engineering in 1996 from the University of Washington, where fellow Rehnberg Chair John Berg served as a mentor.
"The skills that I learned from John and the other UW faculty members were extremely formative for me, and they have had a profound impact on my academic career," Hillhouse said. "So, in some sense, I feel like I am returning home to carry the UW torch to the next generation."