A complete listing of all Chemical Engineering courses is available on the ChemE Course Catalogue page. Course numbers, titles, descriptions, credits, and prerequisites are listed. Links for time schedules are also available on the page above the course listings.
Graduate Courses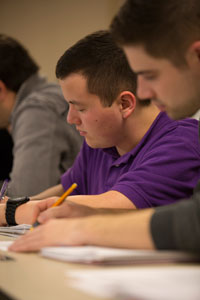 Graduate courses are those at the 500 level or above. Courses at the 400-level are also appropriate for graduate students; however, students must obtain departmental approval for these courses to count toward a graduate degree. Taking outside department courses is encouraged, and, with double majors, is required. Check with the department/s for more information on the courses that count toward a specific degree.
For a list of courses in Nanoscience and Molecular Engineering, under the Chemical Engineering umbrella, visit the N&ME Course Catalogue or NME Option page.
For a list of all courses offered at the University, including all available in the College of Engineering, visit the University of Washington Course Catalogue page.