Our Undergraduates
Chemical Engineering undergraduate students do more than just attend lectures as they work their way toward a degree. Our students are highly engaged in research and development activities, are national award-winners and scholarship recipients, and are changing the world through innovation. A few of our accomplished undergraduate students, past and present, are highlighted below.
May 2012 | Chemical Engineering
Siedlik places first at ECS poster contest
Siedlik places first at ECS poster contestChemE senior Mike Siedlik won first place in the student poster competition at the 221st Meeting of the Electrochemical Society. Mike went against 70 national and international students, mostly graduate students, and won in electrochemical science technology for his poster "Orchestrated Structure Evolution: Electroless Copper Deposition".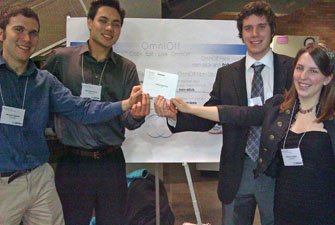 January 2012 | Chemical Engineering
ChemE Undergrad Team Takes 1st Place
OmniOff, a team of undergraduate students seeking to innovate non-stick cookware surfaces, won first place at the Science and Technology Showcase competition. The OmniOff team, which includes Kathryn Cogert, Mike Siedlik, Nick Wang, and Grant Williamson, received a $1,000 first place check and $2,500 in prototyping funds.

January 2012 | Chemical Engineering
Seniors receive Mary Gates Scholarship
Lucas James and David Bergsman were selected to receive Mary Gates Undergraduate Research Scholarships. A student with Prof. Hillhouse's group, James's research examines solar cell efficiency, while Bergsman, with Prof. Berg, analyzes the mechanism behind the charging of oxide particles in non-polar liquids. 

January 2012 | Chemical Engineering
Senior and musician wins first Rehm Award
With a little hard work and determination, Kenny Choi raised his ChemE GPA and won the first ChemE Rehm Award for having the most improved GPA from junior to senior year. The senior found time to focus on his studies, even while continuing his alternative life as a band frontman and solo musician.

July 2011 | Chemical Engineering
Melanie Drake wins Dean's Medal
Melanie Drake came to the University of Washington as a fourth-generation Husky. But Melanie is a first in Chemical Engineering. She was recived the Dean's Medal for Academic Excellence, the first for the department.

December 2010 | Chemical Engineering
A team of engineering students, including Chemical Engineering senior Penny Huang, developed an inexpensive device to make water safer for the world to drink. Using the sun's rays to disinfect water, the team created an electronic indicator to show when the water is safe to drink.