Overview
If you are an Undergraduate Chemical Engineering student, you have access to the RemoteApp server supported by the department and managed through the main College of Engineering (CoE) team. This RemoteApp server will give you on-campus and off-campus (via Husky OnNet) access to the following Chemical Engineering programs:
aspenONE (version 8.6) suite, which includes commonly used programs such as Aspen Plus and HYSYS
COMSOL Multiphysics (version 5.2a)
More general information and configuration instructions about the College of Engineering RemoteApp Cluster can be found through their MyCoE page.
Requirements
Access to the CoE RemoteApp server requires an online connection to the University of Washington network. For Wi-Fi, you may accomplish this through either the encrypted eduroam or unencrypted University of Washington network. For off-campus access to the University of Washington network, download and install Husky OnNet.
System Requirements
Supported web browser to access the College of Engineering RemoteApp Portal
Remote Desktop Protocol (RDP) software such as:

Remote Desktop Connection for Windows 7/10
Microsoft Remote Desktop for macOS
Restrictions
Only enrolled Chemical Engineering Undergraduate students can access the COMSOL and aspenONE Suite of programs installed the CoE remote servers. They are currently unavailable to graduate students, staff, or faculty of the department.
The use of both COMSOL and aspenONE is supported by a model of concurrent licenses purchased by the Chemical Engineering department and delivered via a license server. In scenarios of high simultaneous access to these programs (either through the Undergraduate Computer Lab or the RemoteApp server), users who try to open the software may be denied access due to the license limit being reached. If you encounter such a case, please try again later.
How To Access
On a web browser, navigate to the CoE RemoteApp Portal at: https://rdweb.engr.washington.edu/
After logging in with your NetID, select the icon of the program that you'd like to access. This will download a Remote Desktop Protocol (.RDP) file to your computer. Open the downloaded .RDP file.
At the proceeding login popup window, log in with your NetID credentials like in the example screenshot below: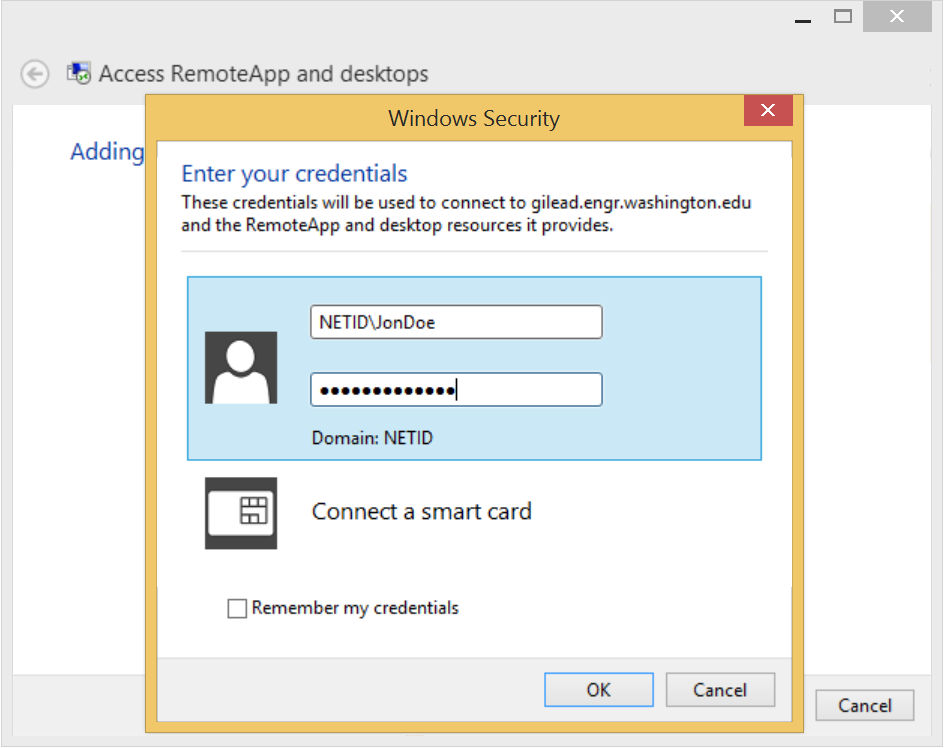 The selected program should now appear as a separate window on your desktop. Please advise that any files should be saved through the U Drive, a file storage service automatically available to all UW students. The main CoE RemoteApp Cluster page has a helpful section on how to access this storage space.
Support
Contact chemesupport@engr.washington.edu for any technical issues you may encounter when using either the aspenONE Suite or COMSOL on the RemoteApp Cluster.
Husky OnNet is a service managed by the main UW IT department. As such, the recommended contact for technical support of this service is at help@uw.edu. More information about this service can be found on their IT Connect site.