Bindra and Weyerhaueser Endowed Professorships Installation
Submitted by
sbagwell
on Fri, 12/09/2016 - 15:15
On October 13, the Chemical Engineering community gathered for a very special event: the installation of not one, but two endowed professorships. The honors were bestowed upon two outstanding Associate Professors: Jim Pfaendtner, as the inaugural Jagjeet and Janice Bindra Endowed Career Development Professor, and Lilo Pozzo, as the Weyerhaeuser Endowed Professor in Chemical Engineering. 
"Private support such as these named endowed professorships play an important role in supporting and recognizing outstanding faculty like Jim and Lilo," said Mike Bragg, Frank & Julie Jungers Dean of Engineering. Named endowed funds equip faculty with discretionary funds to be used for supporting graduate students, travel, equipment or other expenses related to the success of their research labs.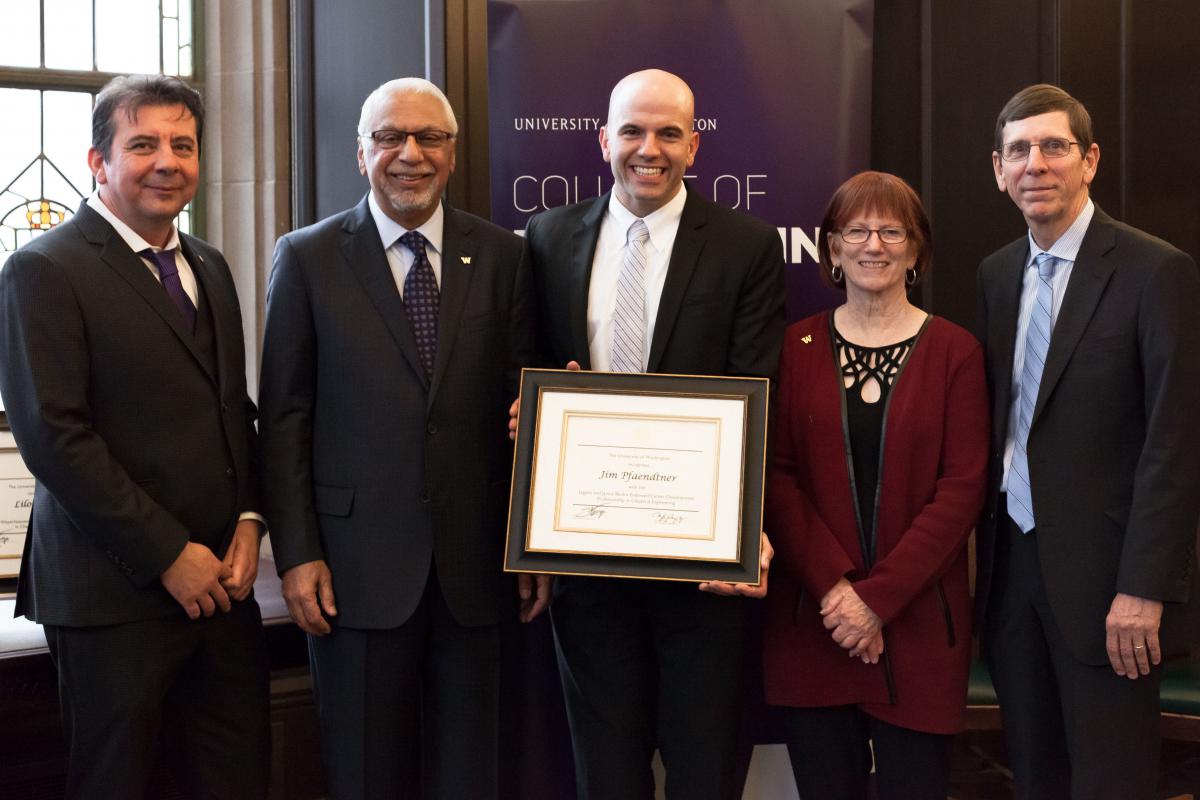 From left: Chair Baneyx, Jeet Bindra, Jim Pfaendtner, Janice Bindra, Dean Bragg
Jeet (MS '70) and Janice (BA Spanish '70) Bindra have been tremendous supporters of the Department of Chemical Engineering and the College of Engineering. Jeet chairs the COE Visiting Committee and the Bindras have given generously to the department, establishing the Bindra Innovation Lab in Benson Hall and endowing a Graduate Fellowship. Standing in front of the ChemE community and his family and friends, Jeet thanked the ChemE professors who influenced him as a student and noted that this latest gift is "a small way to give back." The Bindra professorship will be held by Associate Professor Jim Pfaendtner. Prof. Pfaendtner is the recipient of the 2012 NSF Career Award, the 2013 University of Washington Distinguished Teaching Award, and the 2014 College of Engineering Faculty Junior Innovator Award. He recently won a $3M National Research Traineeship (NRT) big data for clean energy award from NSF to support graduate students in data science. "This professorship means I'll be able to support my students to attend more conferences and present our work, which is a really important experience for them. I'll wear the Bindra named professorship with pride and look forward to getting to know the Bindras further," Prof. Pfaendtner said.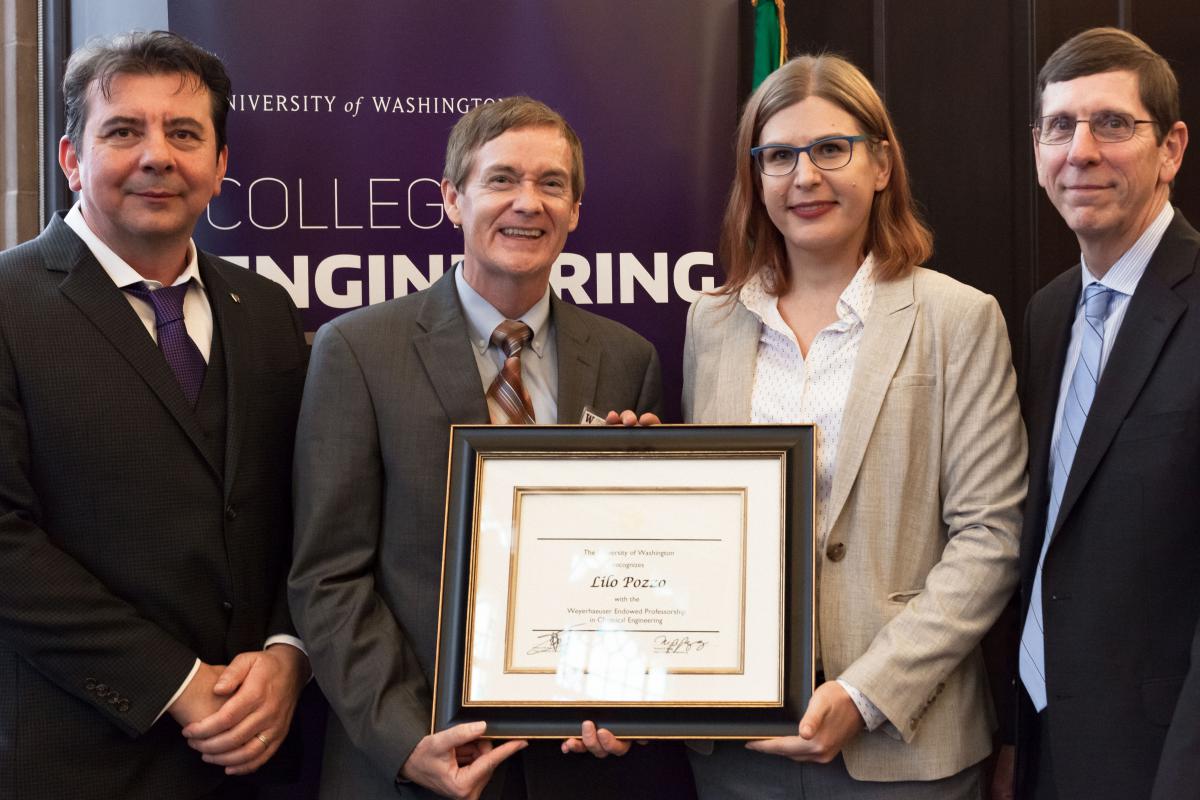 From left: Chair Baneyx, Jack Winterowd, Lilo Pozzo, Dean Bragg
Weyerhaeuser has been a trusted partner of the College of Engineering for many decades and one of our most notable alumni, Steven Rogel (BS '65), formally served as President, CEO, and Chairman of Weyerhaeuser Company. We were honored to have Jack Winterowd, Chemistry Platform Manager of the Wood Products Research & Development Division and an alumnus of UW Forest Resources, represent the company for the celebration. The Weyerhaeuser Professorship will be held by Associate Professor Lilo Pozzo. Professor Pozzo is the winner of the 2013 Department of Energy Early Career Award and the 2013 University of Washington Outstanding Undergraduate Research Mentor Award. She was recognized by the National Institutes of Health with a $2.8M award for developing plasmonic technology suitable for imaging and busting blood clots. She is a leader in commercialization of technologies and has successfully spun off companies like Decaf Style and PolyDrop with her students through the ChemE entrepreneurship program. As Prof. Pozzo stated, "This professorship is equally about recognition of my students' work and we'll be able to take greater risks with our research."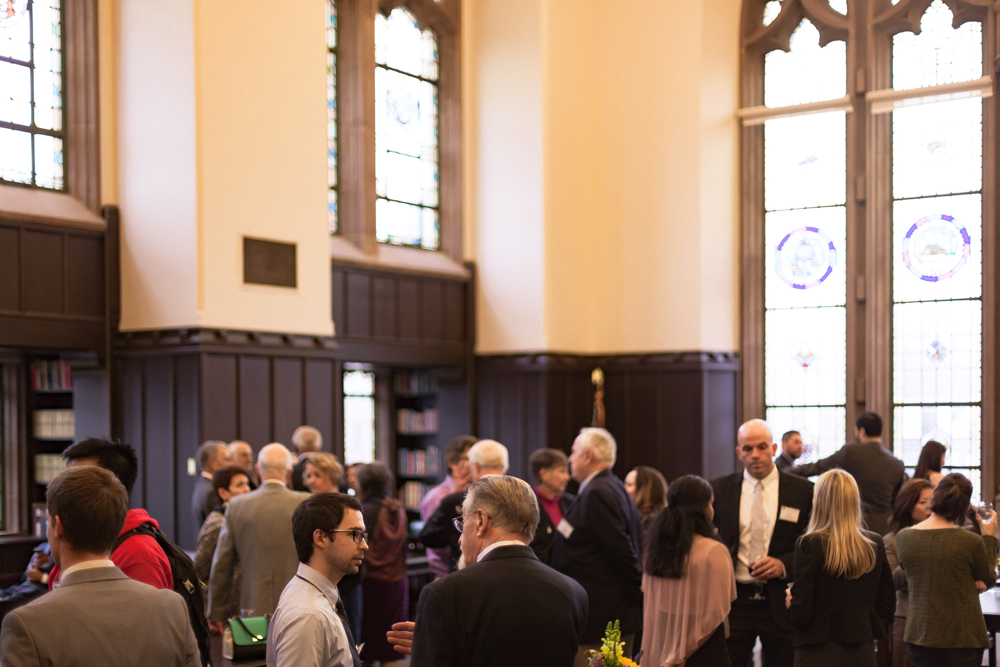 Shoko Saji