December 7, 2022
The ChemE student organization Women in Chemical Engineering (WChE) returned, after a pandemic-induced hiatus, to hosting an in-person gathering for their 6th Annual Industry Event in November 2022. Eleven department alumni, now working in a variety of fields at different stages of their careers, participated as panelists. They shared with current students valuable insights into preparing for and navigating the many career paths available to ChemE's.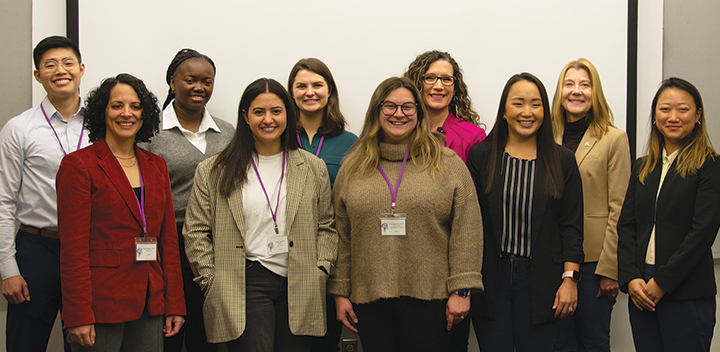 The evening kicked off with a keynote talk by Amanda Levenson (B.S. '18), Manufacturing Business Manager at the electric vehicle company Lucid Motors. Amanda explained how her career path took several unexpected turns, from her initial interest in medical diagnostic devices to working in semiconductor wafer fabrication at Intel and eventually to her current position at Lucid. Along the way, she realized the value in "planning to not have a plan" and keeping her eyes open to new opportunities.
Following the keynote, the 115 attendees chose among four Q&A panels focused on professional development. Moderated by WChE officers, they addressed topics such as work-life balance, keys to success in a first job, and moving into leadership roles.
WChE faculty adviser Elizabeth Nance and student organizers, led by graduate student and WChE President Ruby Jin, are grateful to the alumni panelists as well as the sponsors who made the evening possible. Corporate, individual and organizational sponsors contributed a total of more than $10,000 in support of the event.