December 1, 2022
Dahlgren father and son alumni establish new endowment in chemical engineering
The University of Washington plays a prominent role in the Dahlgren family story. Family members spanning multiple generations have earned UW degrees ranging from building construction to education (in those cases: Scott Dahlgren '84 and Helen Dahlgren '60, respectively). But the chemical engineering department had a particular draw. Daniel L. (B.S. '60), his brother Edwin (B.S. '56) and son Daniel T. (B.S. '82) all chose the ChemE path at UW.
Now, Daniel L. and Daniel T. — father and son — have established the Dahlgren Family Endowed Faculty Fellowship in Chemical Engineering. "We want to recognize the impact UW Chemical Engineering has had on our family," said the younger Dan, "and we hope this will help ensure the same opportunity for future generations."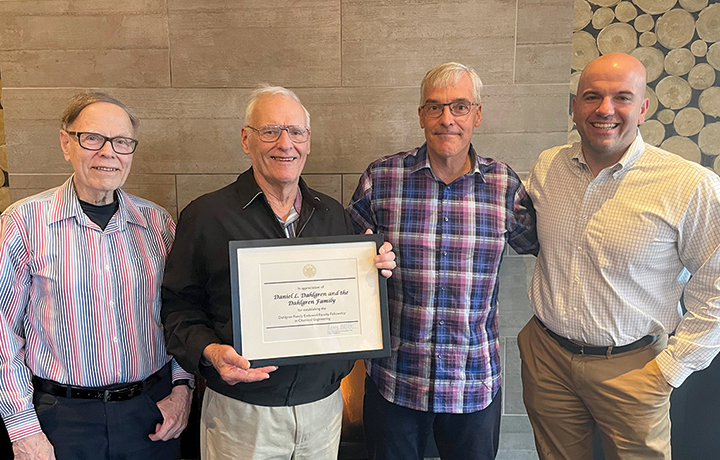 The endowment will support efforts to continue recruiting and retaining top faculty in ChemE, which is critical to sustaining a strong department. People make the difference, and attracting top tier faculty in turn draws in talented students and raises the bar on the quality of teaching and research. UW's ChemE department is not the biggest, but the Dahlgrens believe it will continue to punch above its weight.
They were inspired to establish this endowment to give back to the university, college and department that shaped their lives and opened doors for career and personal success. Daniel T. combined his ChemE degree with a Harvard MBA and worked in marketing and managerial roles for 33 years at The Clorox Company. He retired in July 2022 as Vice President – Strategy and Planning. He was the recipient of ChemE's 2019 Moulton Distinguished Alumnus Award and has stayed closely connected to the department, serving on its External Advisory Board for many years.
Daniel L. enjoyed a nearly 30-year career with the pulp and paper company, Georgia-Pacific. He served in many technical and leadership positions, ultimately becoming general manager of the company's sizable Bellingham, Washington, operations. Edwin (deceased) joined the engineering staff of Georgia-Pacific after serving as a pilot in the Air Force. He worked as a manager of engineering services and an environmental director until his retirement in 1991, then shifted to consulting.
The Dahlgrens are committed to ensuring that a UW chemical engineering degree is a springboard to a fulfilling career, as it was for them. With their support, the department is better positioned to attract and retain researchers and educators passionate about advancing knowledge and developing leaders in the field.