By Lindsey Doermann
June 3, 2020
The remote nature of the Spring 2020 Quarter didn't prevent ChemE students from producing artwork derived from their research. In the 5th annual Science & Engineering as Art competition, eight creative entries spanned the wide range of work that chemical engineers do, from medicine to protein engineering to data science. The art competition is made possible thanks to an endowment from ChemE graduate and Moulton Distinguished Alumna Dorothy Bowers.
First Place
Light at the End of the Tunnel
By Jonathan Witt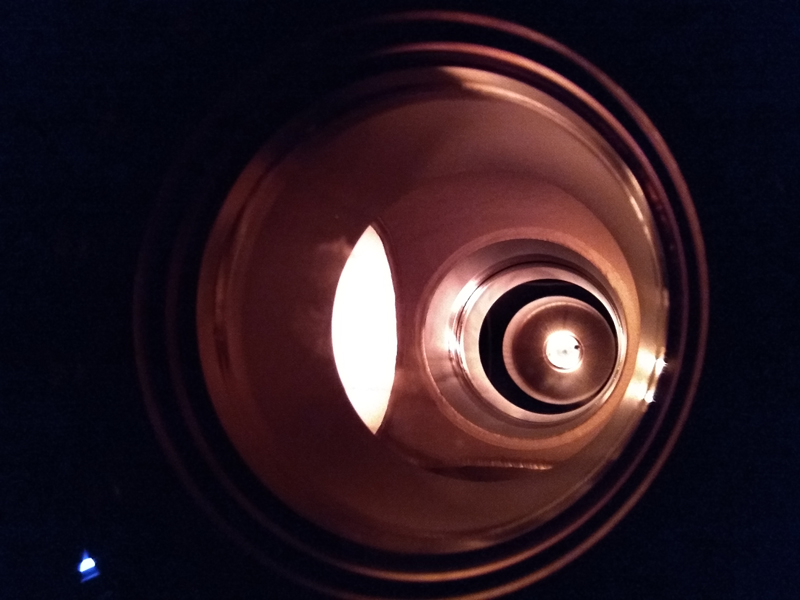 This photo shows a mass spectrometer and ionization gauge light inside of a high vacuum chamber in the darkness of the Benson basement. The mass spectrometer is half of a novel in situ electrochemical impedance and gas phase measurement apparatus.
Jon says about his entry: "I was inspired to take the photo because for a long time, as I opened the door to the lab in the morning and the lights were all off, I could see this warm and eerie glow from my apparatus."
He felt a sense of intrigue. "When I look down the stainless steel tubes into the vacuum apparatus, I kind of feel like I'm looking into a high tech spaceship or secret underground tunnel with mysteries to be solved in it," he says. "So I got the idea to take the photo to try and capture that awe and mystery." Jon used his phone camera to create the image, with the only light source being from the ionization gauge and mass spectrometer.
Jon is a graduate student in Stu Adler's and Eric Stuve's groups
Second Place
Warhol's Glia
By Mike McKenna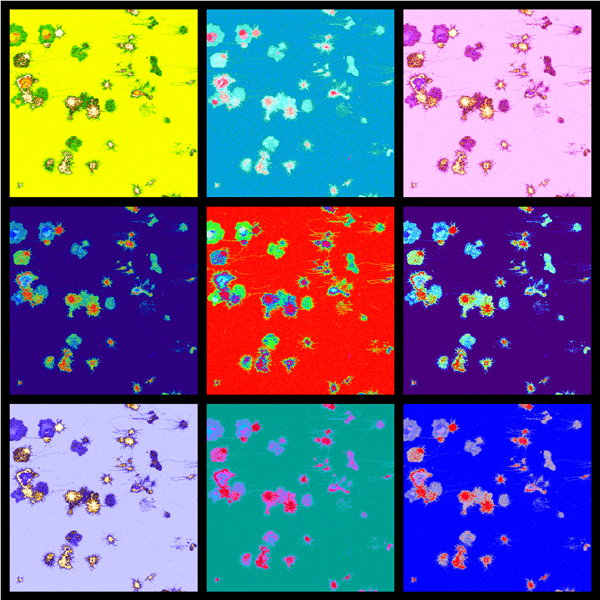 This Andy Warhol-themed rendering provides viewers a unique look at the morphological complexity of microglia, the brain's resident immune cells. The original image was acquired via fluorescence microscopy but was later passed through a series of spectral transformations.
"I've always been a fan of Andy Warhol's Marilyn Monroe paintings — there's just something about that style that always catches my eye," says Mike. "I realized at some point the fluorescent images we take in lab would be good candidates for creating something similar." He says that he checked out a bunch of color options in ImageJ and got input from the lab group to find the combos that popped the most.
Mike is a graduate student in Elizabeth Nance's lab
Third Place
Paisley Proteins
By Julia Boese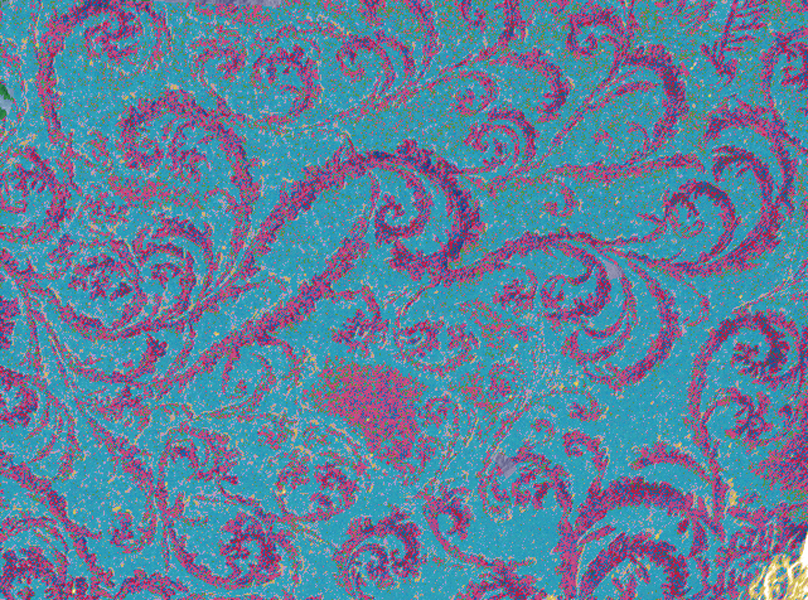 This shows a colored-manipulated SEM image of protein-bound silica nanoparticles in an interesting drying pattern.
Julia says she made the image while working on connecting nanoparticles using protein linkers. At first she thought this could be a unique protein-driven pattern but then couldn't replicate it with different drying methods. The explanation, instead, is that an experimental artifact became a work of art.
Julia is a graduate student in François Baneyx's lab
Other entrants:

Galaxy of the Brain
By Brendan Ball
The image portrays perineuronal nets (PNN stained in green) inside an adult rat brain's extracellular matrix (ECM). These formations are important for neurological development throughout the lifespan of an organism.
Brendan is a junior in Elizabeth Nance's lab

Lithium Caverns
By Brian Gerwe
The concentrations of Li ions in adjacent particles of LiCoO2 are revealed here by Scanning Thermo-Ionic Microscopy, an atomic force microscope-based technique developed in collaboration with students of Jiangyu Li in the UW Mechanical Engineering department. A colormap is used to visualize ion concentrations.
Brian is a graduate student in Stu Adler's group

PEGylated Ectoplasm
By Hawley Helmbrecht
During our first attempts at chemically bonding fluorescent PEG to polystyrene particles, the PEG seems to have dried on the slide into a haunting shattered pattern.
Hawley is a graduate student in Elizabeth Nance's lab

49 of over 5,000 ways your computer could view this plot
By David Hurt
From a neural network's perspective, clean XY plots are almost entirely made of useless white background data. We are using data transforms and overlapping colors to produce data-rich images that are faster and more accurate when training convolutional neural networks.
David is a data science master's student working with Lilo Pozzo and Dave Beck

Miss Annealiality
By Sage Scheiwiller and Caitlyn Wolf
Polymer sample of 0.1 wt percent regiorandom P3HT prepared in chloroform, created for NIST: NCNR neutron scattering experiment. We attempted to anneal the sample in an oven and developed an array of bubbles throughout the film.
Sage and Caitlyn are graduate students in Lilo Pozzo's group