By Lindsey Doermann
March 12, 2019
Three teams of ChemE undergraduate and graduate students, along with business students, were among the 22 finalists competing at the 2019 Hollomon Health Innovation Challenge on March 6. Hosted by the UW Foster School of Business's Buerk Center for Entrepreneurship, the contest saw teams from across the Pacific Northwest pitching new technologies — and business plans — for health and healthcare.
The competition opened with a lightning round of 60-second pitches delivered by one representative from each team. Following that, judges talked to students and checked out prototypes at team booths. The judges also evaluated teams based on the innovations' potential for impact, as well as one-pagers laying out their technology and business plan.
The ChemE teams developed their ideas in professor Lilo Pozzo's Special Design Project course this quarter. Pozzo advised all of the teams, with professor Stu Adler co-advising the ElectroSolar Oxygen group. Pozzo said she tasked the students to devise a technology that addresses one of the UN's Sustainable Development Goals.
While none of the relatively-new teams came away with startup funds this time (read about the winners here), they'll keep refining their ideas. All three will compete again at the Alaska Airlines Environmental Innovation Challenge, also hosted by the Buerk Center, on April 3 at Seattle Center.
Here are the three teams who competed as finalists at the Health Innovation Challenge:
ElectroSolar Oxygen
When electricity is unavailable or unreliable, patients who need supplemental oxygen have a tough time getting it. Today's run-of-the-mill oxygen concentrators require frequent maintenance, specialized training, and a lot of energy to operate. The ElectroSolar Oxygen solution takes a different tack. They want to harness simple electrolysis to generate concentrated O2 using just water and air— and power it all with solar panels. Efficiency and scale will be key, of course, but they're motivated by the impact this innovation could have in developing countries and disaster-stricken regions.
Team: Gabriel Lozada (ChemE '20), Sophia Nguyen (ChemE '19), Harrison Sarsito (ChemE '19), Annalisa Ursino (ChemE '19)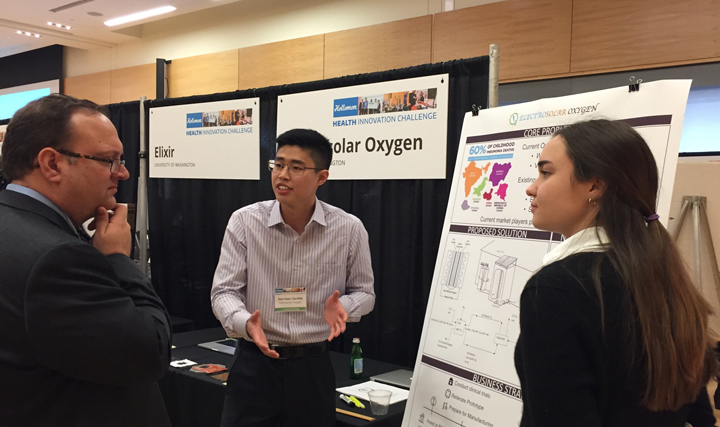 Harrison Sarsito and Annalisa Ursino explain their technology to a contest attendee
Pallicera
To say that something tastes like cough syrup is not to bestow high praise. Many children don't take complete doses of their medications in part because of the flavors used to cover up bitter tastes. Pallicera aims to mask those tastes completely using microemulsions, beginning with the effective-yet-bitter antimalarial drug quinine. The team is developing a new drug formulation in which an emulsion encapsulates the pharmaceutical. This way, the bitter components never register with a taste bud, and the emulsion then breaks down in the stomach to release the drug. They've met with the global health nonprofit PATH to keep their innovation in line with product requirements and market demand. And if their vision comes to pass, we'll see healthier kids, calmer parents, less drug waste — and bitter pills as a thing of the past.
Team: Gary Boon (ChemE '19), Redeen Duran (ChemE '19), Yun Lu (MBA '20), Zayed Mohideen (ChemE '20), Emily Rhodes (ChemE '20), Sage Scheiwiller (ChemE MS '20)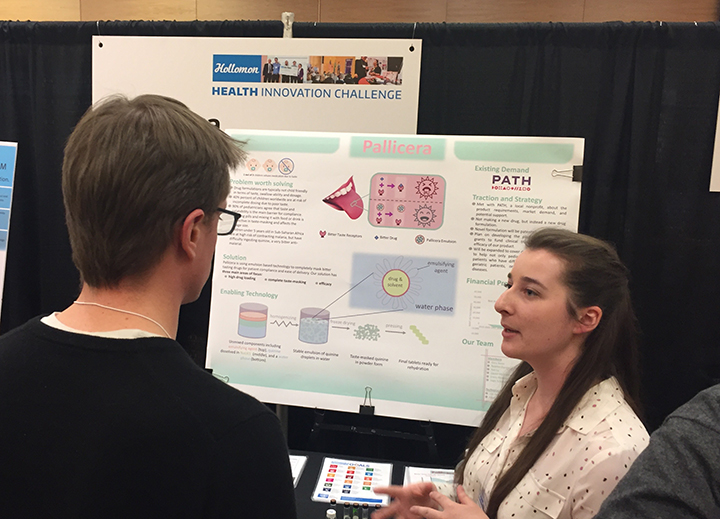 Sage Scheiwiller talks about Pallicera at the poster session
PuriCake
Even if everyone stops flushing their old or excess pills down the toilet, we're still left with pharmaceutical pollution that enters the wastewater system through urine. Wastewater treatments plants aren't able to filter out all of these compounds, and when they're released into the environment, they can disrupt the endocrine systems of marine life and promote antibiotic resistance, among other unsavory effects. To stop this pollution at its source, PuriCake is producing urinal cakes composed of activated carbon and bacteria that can adsorb — and break down — pharmaceuticals. What's more, the cakes are made of all-natural, biodegradable materials. The team's first steps toward being flushed with success will include cakes that target common drugs such as Ibuprofen, antibiotics, and antidepressants.
Team: Shannon Ahearn (ChemE '19), Brigitta Bedwell (ChemE '20), Samuel Ng (ChemE '20), Eugene Sim (ChemE '19)
Samuel Ng and Eugene Sim promote their health innovation