Graduate students teach hundreds of 8th graders about biomaterials
By Lindsey Doermann
January 4, 2019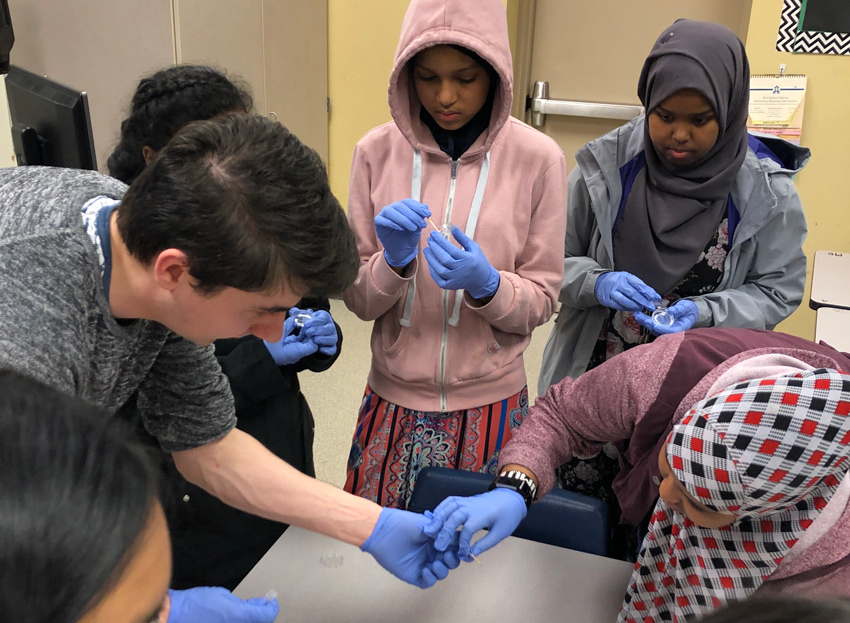 Ross Bretherton and students painted with bacteria and watched their creations grow
Last month, nearly 400 students at Mill Creek Middle School in Kent, Washington, learned about 3D printing heart valves, creating targeted therapeutics, and other ways of engineering biomaterials to improve people's health. It was all part of a day-long outreach event entitled "Biomaterials — Engineering Solutions for Life," spearheaded by ChemE professor Cole DeForest and graduate student Mary O'Kelly Boit.
DeForest and students from ChemE, the Department of Bioengineering, and the Institute for Stem Cell and Regenerative Medicine (ISCRM) presented three different hands-on hour-long modules —six times each — to 8th grade classes on December 17, 2018.
In a module on bioprinting, students explored material design for artificial skin, heart valves, and bone, then tried their hands at 3D printing. In a lesson on targeted drug delivery, the class weighed considered various design criteria for hydrogel biomaterials and made balls of Jell-O encapsulating Skittle dye to simulate drug release. Finally, in the protein therapeutics module, students learned about genetically engineering bacteria to become tiny protein "factories," then brought these proteins to life by creating 3D models out of cut and folded paper.
"I am eager to spread my love of biomaterials to those around me," said O'Kelly Boit, adding that when she was a kid, a female scientist inspired her by showing her how biomaterials can help solve real medical problems. "This was also a fun opportunity to show the students that, yes, science is cool, and it's okay not to be right — that's why it's an experiment," she said.
ChemE, in partnership with ISCRM, will continue using these modules for yearly outreach activities at Mill Creek, which has a large population of underserved students, and in other schools.
"It is always fantastic to step out of the lab and off the UW campus to share some of the biomaterial science that we love with the community," said DeForest. "If even one of these ~400 students is inspired to dive deeper into science and engineering, I'd consider the event a tremendous success."
This work was supported by funding from the National Science Foundation (DeForest CAREER Award, DMR 1652141) and from the ISCRM.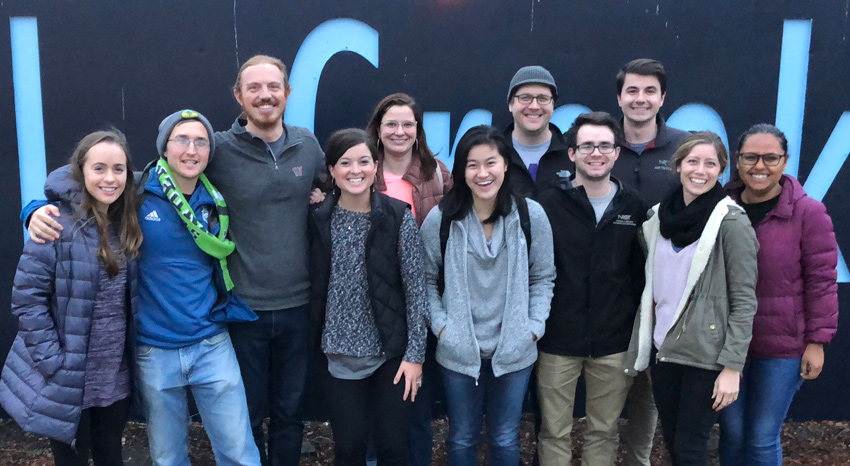 Biomaterials Day Outreach group (L to R): Julia King (ChemE), Jon Witt (ChemE), Prof. Cole DeForest, Mary O'Kelly Boit (ChemE), Savannah Cook (ISCRM), Tudi Le (ISCRM), Steven Adelmund (ChemE), Jeremy Filteau (ChemE), Ross Bretherton (BioE), Emily Ruskowitz King (ChemE), Prabhleen Kaur (ChemE)