ChemE undergraduates swept the competition at the at the Pacific Northwest Regional AIChE Conference, held April 27-28 at the University of Idaho, Moscow campus. The students took first place in the Chem-E Car competition, both for design and performance, and will advance to the National Competition at the AIChE Annual Meeting held in October in Pittsburgh. This win was especially momentous as last year's car did not move at all at the 2011 Oregon State University competition.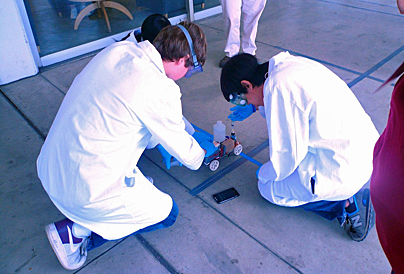 This year's car was powered by a thermoelectric device, and the distance traveled was controlled by the iodine clock reaction. The goal was for the car to travel a set distance, 52 feet, no more, no less. Each team got two tries. The first UW trial overshot the mark by a large distance, and the problem was traced to the temperature effect on the iodine reaction rate. Previous tests had been run indoors with temperatures in the high 60s, but the temperature outside in Moscow was in the low 50s outside the day of the test. The team made suitable adjustments, and the second trial brought the car within 10 feet of the goal, earning them first place. Check out a ChEnected Play-by-Play of the UW ChemE Car.
UW students also took all three of the Research Paper Competition prizes. John Geil took first place, with his paper entitled "Titania-Stabilized Pickering Emulsions for Skin Care Products," and will advance to the National Competition at the AIChE Annual Meeting. David Bergsman took second place, with his paper "The Effect of Silane Treatments on the Surface Properties of Silica," and Joseph Crowell took third place with his paper "Adhesion in Fiber-Reinforced Composites."