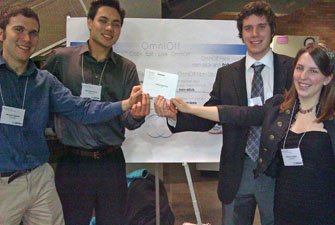 Health concerns are motivating a major push to reformulate the teflon coatings used in cookware.
In response, ChemE undergrads Kathryn Cogert, Mike Siedlik, Nick Wang, and Grant Williamson seek to radically redesign non-stick cookware surfaces by eliminating the coating all together. Given their first place win at this year's Science and Technology Showcases competition, the judges seem to think they have a recipe for success. SEBA and Foster Business School's Center for Innovation & Entrepreneurship (CIE) hosted the competition.
What's the secret sauce for their nascent company OmniOff? The team is working on a low cost manufacturing method to nanopattern the pan's metal surface, rendering it non-stick to most substances. In addition to the $1,000 first place check, the students have also received $2,500 of prototyping funds to help them advance the technology.
Keep tuned as OmniOff continues to refine their manufacturing process, test their product performance, and compete in the Foster Business School Environmental Innovation Challenge and Business Plan Competition later this year.