July 6, 2020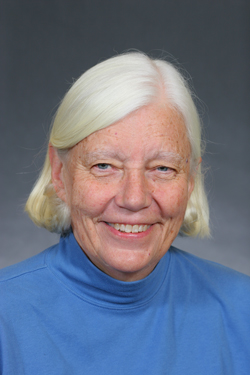 UW ChemE remembers Dorothy P. Bowers, an accomplished alumna and dedicated supporter of ChemE education. Dorothy earned a B.S. in chemical engineering at the University of Washington in 1969, and received the department's R.W. Moulton Distinguished Alumna Award in 2009. She supported ChemE philanthropically for over four decades, and in 2013 she created an endowment, the Dorothy P. Bowers Endowed Fund in Chemical Engineering. The fund was established to provide long-term discretionary support to the department and has had positive impacts on student support, research, and department culture. The endowment also supports the annual Science & Engineering as Art competition, in which students produce artwork derived from their research.
Born in Getzville, NY, Dorothy showed an early interest in science. She completed high school at the age of 15, and attended the University of Buffalo to earn a degree in chemistry. After a number of years working for Sandwell and starting a family of her own, Dorothy returned to school to earn a B.S. in ChemE at the UW.
In 1974, she joined Merck & Company, Inc., one of the world's largest pharmaceutical manufacturers, where she gained increased responsibility as part of a fledgling Environmental Department. Under her tenure, the organization grew from a two-person office to a diverse team of over 200 staff, overseeing the regulatory compliance and pollution standards achieved by Merck manufacturing plants around the world. This organization established Merck as a leader in environmentally conscious operations within the nation's drug manufacturing industry. After several years as Vice President of Environmental and Safety Policy, she retired at age 65.
In retirement, Dorothy chaired the EPA's National Advisory Council on Environmental Policy and Technology under Administrator Christine Todd Whitman and became a member of the International Organizational Standards (ISO) committees, focusing on the ISO 14000 family of Standards for Environmental Management.
She became active in the CentraState Medical Center in Freehold, New Jersey and the Visiting Nurse Association of Central New Jersey as a trustee to both organizations. She was named the 2014 NJHA Hospital and Healthcare System Trustee of the Year Award, and served on the Board of Directors at CentraState Medical Group Inc.
A life-long learner and 45-year resident of Matawan, New Jersey, Dorothy did not shy away from any project or task, whether it be building the family's television from a kit, rebuilding a Volkswagen engine, or earning her private pilot's license. Her love for photography, particularly bird photography, was the impetus for extensive travel — to Northern Canada, Alaska, Hawaii, the Galapagos Islands, the Amazon, Machu Picchu, Costa Rica, Australia, Japan, and South Africa — well into her 80s.
In April 2020, Bowers succumbed to cancer after a brief and spirited battle.