Buddy Ratner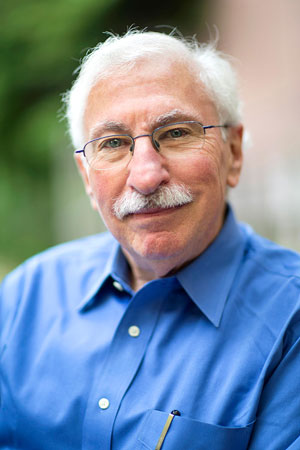 Buddy Ratner 
Professor of Chemical Engineering and Bioengineering
Michael L. & Myrna Darland Endowed Chair in Technology Commercialization
Adjunct Professor, Materials Science & Engineering
Office: N330J Wm. H. Foege Bldg.
Phone: 206-685-1005
Fax: 206-616-9763
Education
B.S., Brooklyn College, 1967.
Ph.D., Polytechnic Institute of Brooklyn, 1972.
Research Interests 
Biointerface synthesis, modification and characterization
Tissue engineering and regenerative medicine
Synthesis and characterization of polymeric biomaterials
Healing, inflammation
The technological applications of biology at surfaces (biomaterials, biocompatibility, polymers, surface engineering, self-assembly, molecular recognition) 
The focus of my research is on exploiting biology and specific biological recognition mechanisms in order to develop a new generation of biomaterials for medical implants that heal naturally in the body and/or lead to the regeneration of tissue. The concept of working with biology and biological recognition opens interdisciplinary pathways for exploration: surface analysis, surface engineering, materials science, biology, and medicine, just to name a few. My two primary research/education programs, University of Washington Engineered Biomaterials (UWEB, an NSF Engineering Research Center) and BioEngineered Autologous Tissue (BEAT, an NIH Bioengineering Research Partnership grant) are the platforms providing resources and direction for the research objectives. 
Medical devices are a $100 billion+ industry that saves lives and improves the quality of life for millions. Most implanted medical devices are seen by the body as foreign objects. Coming up with biomaterials that trigger a natural healing process, in contrast to the encapsulation response seen today, requires strategic, multidisciplinary research. UWEB brings together a team of materials scientists, molecular biologists, biomolecular engineers, biomaterials researchers, bioengineers, physicians, and industry leaders to work on sharply focused hypotheses aimed at getting better biomaterials to market. Cross-disciplinary subgroups work together within three main research thrusts: materials science, fundamental biology, and pre-clinical testing. The BEAT program, a ten year effort to develop a living heart ventricle, takes us into the realm of tissue engineering. In BEAT and UWEB, my students explore novel surfaces, porous materials, molecular recognition, surface modification, surface analysis, controlled release, inflammation, biocompatibility, and cell-material interactions. 
Selected Publications
"Sustained antibiotic release from an intraocular lens-hydrogel assembly for cataract surgery," S. Garty, R. Shirakawa, A. Warsen, E.M. Anderson, M.L. Noble, J.D. Bryers, B.D. Ratner, T.T. Shen, Invest Ophthalmol Vis Sci, 52(9):6109-16, 2011. PMID: 21447687 .
"Cytotoxicity and Physicochemical Properties of Hafnium Oxide Nanoparticles," J.A. Field, A. Luna-Velasco, S.A. Boitano, F. Shadman, B.D. Ratner, C. Barnes, R. Sierra-Alvarez, Chemosphere, 84(10):1401-7, 2011. PMID: 21605889
"Platelet and Leukocyte Adhesion to Albumin Binding Self-Assembled Monolayers," I.C. Goncalves, C.L. Martins, J.N. Barbosa, P. Oliveira, M.A. Barbosa, B.D. Ratner, J. Materials Science: Materials in Medicine, 22(9):2053-63, 2011. PMID: 21755398
"The Biocompatibility Manifesto: Biocompatibility for the Twenty-first Century," B.D. Ratner, J. Cardiovasc. Transl. Res., 4(5):523-7, 2011. PMID: 21710333
"A Degradable, Thermo-sensitive Poly(N-isopropyl acryladmide)-Based Scaffold with Controlled Porosity for Tissue Engineering Applications," A. Galperin, T.J. Long, B.D. Ratner, Biomacromolecules, 11(10):2583-92, 2010.
"Quantifying the effect of pore size and surface treatment on epidermal incorporation into percutaneously implanted sphere-templated porous biomaterials in mice," R.A, Underwood, M.L. Usui, G. Zhao, K.D. Hauch, M.M. Takeno, B.D. Ratner, A.J. Marshall, X. Shi, J.E. Olerud, P. Fleckman, J. Biomed. Mater. Res. A, 98(4):499-508, 2011. PMID: 21681942 doi: 10.1002/jbm.a.33125
"Identifying Individual Cell Types in Heterogeneous Cultures Using Secondary Ion Mass Spectrometry Imaging with C60 Etching and Multivariate Analysis," C.A. Barnes, J. Brison, M. Robinson, D.J. Graham, D.G. Castner, B.D. Ratner, Analytical Chemistry, 84(2):893-900, 2012. PMID: 22098081
"Plasma Pencil Atmospheric Mass Spectrometry Detection of Positive Ions from Micronutrients Emitted from Surfaces," M.J. Stein, E. Lo, D.G. Castner, B.D.Ratner, Analytical Chemistry, 84(3):1572-8, 2012. PMID: 22243439
"The suface molecular functionality of deceullularized extracellular matrices," C.A. Barnes, J. Brison, R. Michel, B.N. Brown, D.G. Castner, S.F. Badylak, B.D. Ratner, Biomaterials, 32(1):137-43, 2011.
"Complement activation of poly(ethylene oxide)-like radiofrequency glow discharge-deposited surfaces," L.M. Szott, M.J. Stein, B.D. Ratner, T.A. Horbett, J. Biomed. Mater. Res. A. 96(1):150-61, 2011.
"Proangiogenic scaffolds as functional templates for cardiac tissue engineering," L.R. Madden, D.J. Mortisen, E.M. Sussman, S.K. Dupras, J.A. Fugate, J.L. Cuy, K.D. Hauch, M.A. Laflamme, C.E. Murry, B.D. Ratner, Proc Natl Acad Sci USA, 107(34):15211-6, 2010.