Join the University of Washington's Department of Chemical Engineering for the Inaugural Bruce A. Finlayson Lecture featuring former UW Chemical Engineering professor and current president of the University of Minnesota, Eric Kaler.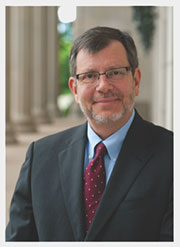 Eric W. Kaler
President, University of Minnesota
Surfactant Microstructures
Tuesday, May 28, 2013 | Research Lecture: 10:30 - 11:45 am | Gates Commons (CSE 691)
Surfactant molecules self-assemble in aqueous solutions into a variety of microstructures including micellar and vesicular forms, and addition of oil forms thermodynamically stable microemulsions. These microstructures can be polymerized or otherwise crosslinked to create new materials. The variation of surfactant concentrations and compositions also can induce substantial changes in the rheological properties of these solutions. A variety of examples will illustrate the properties of surfactant solutions.
The Future of the American Research University
Public Lecture: 3:00 - 4:00 pm | HUB Lyceum
Public reception to follow
As state and federal support continues to decline and the cost of higher education rises, what role do e-learning initiatives, industry partnerships, and other "bold ideas" play in tomorrow's university? Join Eric Kaler as he discusses the major challenges and opportunities facing the nation's top research universities in an increasingly diverse global landscape.
About President Kaler
Eric Kaler is the president of the University of Minnesota. Since he took office in 2011, Dr. Kaler has emphasized a commitment to academic excellence by investing in new faculty positions and pledging to make the university more affordable. Among his initiatives is a proposal to freeze tuition for undergraduates and increase financial aid. His research initiative called MnDRIVE aligns the strengths of the University of Minnesota — food production, robotics, water quality, and neuroscience — with the state's needs and key industries.

After receiving his PhD from the University of Minnesota, Dr. Kaler joined the University of Washington as a faculty member in the Chemical Engineering department and remained through 1989. He is one of the nation's foremost experts in complex fluids, with applications in drug delivery, food processing, pharmaceuticals, and manufacturing. He is the former dean of the University of Delaware's College of Engineering and former provost at Stony Brook University in New York.