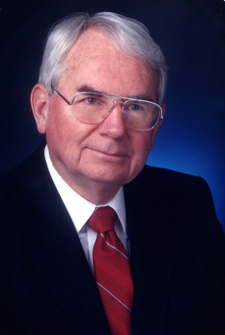 Bill Pope has been named 2011 Moulton Distinguished Alumni Award for his accomplishments in industry. Pope (MS '49, PhD '58), who received the award posthumously, made a lifelong commitment to serving others.
While Pope has contributed to academia, serving as professor and chair at Brigham Young University, and professor and acting president at the Abadan Institute of Technology in Iran, he has greatly shaped the diamond industry.
In 1966, Pope founded the Megadiamond Corporation, a supplier of synthetic diamond grit. Resigning from Megadiamond in 1978, Bill joined U.S. Synthetic, which supplies synthetic diamonds for use in gas and oil drill bits. Founded by his son Louis, Pope served as chairman and president until 1992 and chairman until 2005. Dimicron, a company Pope founded in 1996, explores medical applications of diamonds, specifically the use diamond bearings in prosthetic hips, and relief in spine, knee, and other joints. The company holds over 20 patents and has developed hip joint and spine disc replacements, and is developing a total hip replacement.
"I am driven mainly because humanitarian incentives of the promise for reduction of human suffering possibly by all of the joints over the world," Pope said in 2008 interview.
Pope has receive numerous awards, including an honorary doctorate of business and industry from the Utah Valley University, Businessman of the Year by Provo and Orem Chamber of Commerce, and the Governor's Medal for Science and Technology. The Moulton Award is a fitting tribute as Dr. R. W. Moulton served as his Pope's mentor during his time at UW. Pope passed away in November 2010 at the age of 88. He is survived by Margaret McConkie Pope, his wife of 65+ years, three daughters, one son, and 28 grandchildren.