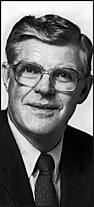 Professor of Chemical Engineering Kermit Garlid passed away in September 2010 at the age of 81. In his 40 years at the University, he served as professor of Chemical Engineering, associate dean of the College of Engineering, Vice Provost of the University, and Chair of the Nuclear Engineering department.
Bruce Finlayson, Former Chair of Chemical Engineering, remembers Garlid as being an effective administrator and an admired instructor. "I always found him thoughtful, considerate, and supportive," said Finlayson. "He returned to teach in the Department of Chemical Engineering when I was Chair, and he was respected by the students."
Garlid is survived by his wife of 55 years, Barbara, four sons, and seven grandchildren. Contributions to the R.W. Moulton Scholarship Endowment, which benefits Chemical Engineering undergraduates, are being accepted in Garlid's honor.