Give to ChemE
Knowledge and Solutions for a Changing World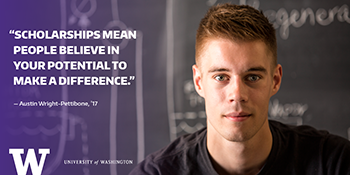 Chemical Engineers are modern day alchemists, transforming raw materials into viable products. From chemical, fuel, cosmetics, medicine, environment, and clean energy to consulting, policy and law, our graduates are tackling the world's most pressing societal problems in a variety of industries.
Our Mission and Values
At the University of Washington Chemical Engineering, our mission is to educate the next generation of visionaries, prepare students for leadership in diverse careers, create knowledge, and provide multidisciplinary solutions to broad societal problems. We value diversity and inclusiveness, collegiality and respect. Quality and excellence are prized, together with multidisciplinary thinking and entrepreneurial spirit. We strive for continuous improvement for creativity and innovation in both undergraduate and graduate research and education.
Now more than ever, a dynamic education requires the involvement and investment of many. It no longer happens with just tuition dollars. Private support is essential to our success. Endowed scholarships, fellowships, professorships and chairs, along with flexible unrestricted gifts can translate into real opportunities for our students and faculty. 
Our Giving Priorities
The Department of Chemical Engineering recognizes the important roles that graduate students play in the discovery process: creating new knowledge, inspiring their teachers, and teaching undergraduate students. ChemE graduate students are supported through their first quarter at UW by endowment funds. Our goal is to triple these funds to provide support for their first, full, academic year. The Chemical Engineering Endowment Fund was established to ensure that the broadest range of promising, talented men and women have access to our top-ranked graduate training program. Providing support for a full year will increase the educational opportunities for graduate students and strengthen our ability to recruit the best and the brightest.
Among the highest priorities of the Chemical Engineering Department is undergraduate student support. Dr. John C. Berg, one of the department's most beloved professors, has generously established this scholarship to offset the financial burden of tuition for deserving students. Over 2,500 students have been taught by Dr. Berg throughout his 50 year tenure with the department. As he continues to teach our students, more future chemical engineers will benefit from his knowledge and unparalleled dedication to the department. A gift to this scholarship will honor the legacy of Dr. John C. Berg.
This endowment will enhance the University's ability to recruit, retain, and/or provide support to a faculty person specializing in interfacial & colloid science. This position may teach other courses in the Department of Chemical Engineering as determined by the Chair. 
The Chemical Engineering Discretionary Fund is an important resource for the Department Chair. Gifts to this fund are free from restriction, and provide essential support for ongoing work and programs. Chair François Baneyx disburses these funds throughout the Department to meet emerging needs and opportunities as they arise.
The success of the Department of Chemical Engineering in attracting the best and brightest undergraduate students depends on its ability to guarantee worthy students access to the Department. Gifts to the Chemical Engineering Scholarship Fund enable the Department to keep its doors open to best and brightest students regardless of their financial circumstances.
Faculty research in Chemical Engineering is a dynamic enterprise and this fund provides a much-needed tool to ensure that our faculty stays ahead of the curve. Gifts to this fund allow the Department Chair to respond to emerging priorities in faculty research but may be directed towards a particular faculty member's research group.