Shaoyi Jiang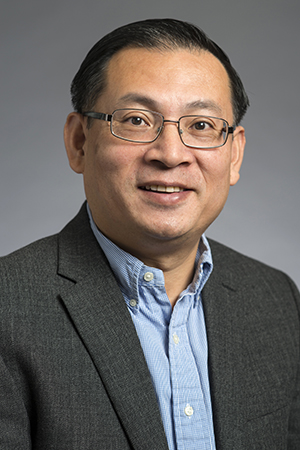 Shaoyi Jiang
Boeing-Roundhill Professor of Chemical Engineering
Adjunct Professor of Bioengineering
Office: 243 Benson
Phone: 206-616-6509
Fax: 206-685-3451 or 206-543-3778
E-mail: sjiang@uw.edu
Website: Jiang Group Website
Education
B.S., Hua Qiao University, 1985.
M.S., Nanjing Institute of Chemical Technology, 1988.
Ph.D., Cornell University, 1993.
Postdoctoral Fellow, University of California (Berkeley), 1993-1994.
Research Fellow, California Institute of Technology, 1994-1996.
Research Interests 
Biomolecular Interfaces and Biomaterials
Molecular Understanding, Design and Development of Zwitterionic-based Functional Materials
An important challenge in many applications ranging from biomedical devices to ship hulls is the prevention of nonspecific biomolecule and microorganism attachment onto surfaces. This attachment can be prevented by using a "nonfouling" surface. Our goals are to provide a fundamental understanding of molecular-level nonfouling mechanisms and to develop biocompatible and environmentally benign nonfouling materials using molecular design principles.
Over the last few years, we have demonstrated that zwitterionic and mixed charge materials are unique, effective and robust for a wide range of applications. In addition to their excellent nonfouling properties, zwitterionic carboxybetaine-based materials have abundant functional groups for ligand immobilization. Superhydrophilic zwitterionic materials maintain protein and cell bioactivity while inducing no capsule formation around tissues and no immunological response in blood circulation. Cationic and hydrolysable zwitterionic ester precursors have self-sterilizing capabilities and other unique properties. Our results show that the strong hydration of zwitterionic materials is responsible for their excellent nonfouling properties.
We take a unique holistic approach to our research by performing both simulations and experiments. Novel materials are designed, synthesized, tested and improved upon all within our group. This collaborative approach allows us to always strive towards understanding nature at all levels. Creative ideas and innovative technologies are always our emphasis.
Selected Recent Publications
B. Li, Z. Yuan, H.-C. Hung, J. Ma, P. Jain, C. Tsao, J. Xie, P. Zhang, X. Lin, K. Wu, S. Jiang, Revealing the Immunogenic Risk of Polymers, Angewandte Chemie, 57, 13873 (2018).

B. Li, Z. Yuan, P. Zhang, A. Sinclair, P. Jain, K. Wu, C. Tsao, J. Xie, H.-C. Hung, X. Lin, T. Bai and S. Jiang, Zwitterionic Nanocages Overcome the Efficacy Loss of Biologic Drugs, Advanced Materials, 30, 1870101 (2018).

P. Zhang, F, Sun, C. Tsao, S. Liu, P. Jain, H.C. Hung, T. Bai, K. Wu and S. Jiang, Zwitterionic encapsulation promotes protein stability, enhances pharmacokinetics and reduce immune response, Proceedings of the National Academy of Sciences, 112, 12046 (2015).

Q. Shao and S. Jiang, Molecular Understanding and Design of Zwitterionic Materials (Perspective Article), Advanced Materials, 27, 15 (2015).

L. Mi and S. Jiang, Integrated Antimicrobial and Nonfouling Zwitterionic Polymers, Angewandte Chemie (Mini Review), 53, 1746 (2014).

L. Zhang, Z. Cao, L. Carr, T. Bai, J.R. Ella-Menye, C. Irvin, B.D. Ratner and S. Jiang,  Zwitterionic Hydrogels Implanted in Mice Resist the Foreign-body Reaction, Nature Biotechnology, 31, 553 (2013). Selected as one of eight "major hits" in 20 years of Nature Biotechnology medical research, Nature Biotechnology 34, 262 (2016).

Keefe, A., Jiang, S. Poly(zwitterionic)protein conjugates offer increased stability without sacrificing binding affinity or bioactivity. Nature Chemistry, 4, 60 (2012).

Jiang, S.Y., Cao, Z.Q. Ultralow-Fouling, Functionalizable, and Hydrolyzable Zwitterionic Materials and Their Derivatives for Biological Applications (Invited Perspective Article), Advanced Materials 22, 920 (2010).

S. Chen, J. Zheng, L. Li, and S. Jiang, Strong Resistance of Phosphorylcholine Self-Assembled Monolayers to Protein Adsorption: Insights into Nonfouling Properties of Zwitterionic Materials, Journal of the American Chemical Society, 127, 14473 (2005).

L. Li, S. Chen, J. Zheng, B. D. Ratner, and S. Jiang, Protein Adsorption on Oligo(ethylene glycol)-Terminated Alkanethiolate Self-Assembled Monolayers: The Molecular Basis for Nonfouling Behavior, Journal of Physical Chemistry B, 109, 2934 (2005).