For Undergraduate Students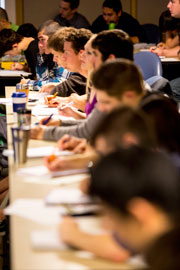 The Bachelor of Science in Chemical Engineering (B.S.Ch.E.) is a highly marketable, professional degree that prepares undergraduate students for employment in industry or graduate study. For information on requirements for the degree, prerequisites, course options, financial assistance, and guideline for degree completion, see the links below.
Information on the undergraduate program, ways to apply to the program, and information on being admitted to the program.
Brief description of the subject matter, the programs, and the challenges and opportunities our students encounter.
Information on the employment opportunities available to graduates with a degree in Chemical Engineering.
List of courses appropriate for ChemE undergraduates, as well as information and links to all ChemE courses, and the University course catalogue.
Information on the courses, GPA, and University standards for undergraduates.
List of the undergraduate courses with the prerequisites needed to enroll in the course.
List of electives within ChemE and other Engineering programs.
Recommended courses, their credit worth, and academic quarter available, including courses required for admission to the program.
Enrollment information for ChemE and non-ChemE majors.
Requirement essential for success and continuation for students in the Chemical Engineering program.
Information on available ChemE scholarships, how to apply, and due dates.