Prof. Venkat Subramanian Presents at Congressional Showcase
Submitted by
sbagwell
on Tue, 03/08/2016 - 13:12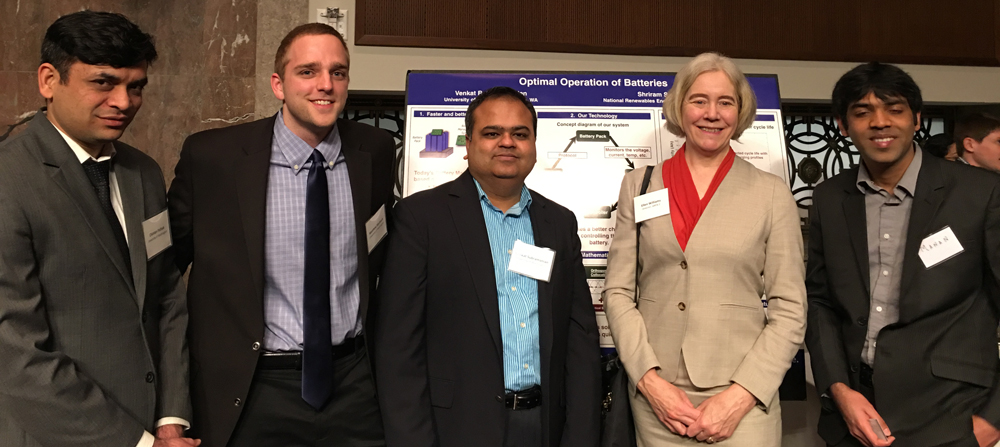 UW Chemical Engineering is making waves in the nation's capital.
Last week, Washington Research Foundation Innovation Professor of Clean Energy & Chemical Engineering Venkat Subramanian traveled to Washington D.C. to present his ARPA-E project in a Congressional Showcase during the Energy Innovation Summit. 
This is a distinguished honor, as out of the several hundred ARPA-E projects, his was one of only six in the nation to be invited (photo above: Prof. Venkat Subramanian and ChemE/EE student start-up Battery Informatics, Inc. members Chintan Pathak, Matthew Murbach, and Manan Pathak with ARPA-E Director Dr. Ellen Williams).
ARPA-E, Advanced Research Projects Agency - Energy, is a Department of Energy agency advancing high-potential, high-impact energy research and technologies that are too early for private-sector investment. The ARPA-E Energy Innovation Summit in its seventh year is an annual conference and technology showcase aimed at moving transformational energy technologies out of the lab and into the market. This year's presenters included Senator Lisa Murkowski, Chairman of the Senate Energy & Natural Resources Committee as well as Former Vice President Al Gore. 
As a leading expert in energy systems management, Prof. Subramanian was invited to present his project work on battery optimization to the ARPA-E leadership as well as the congressional delegation (photo below: Prof. Subramanian and his team with Democratic Professional Staff Scott McKee and Press Secretary Rosemarie Calabro Tully of the US Senate Committee on Energy and Natural Resources).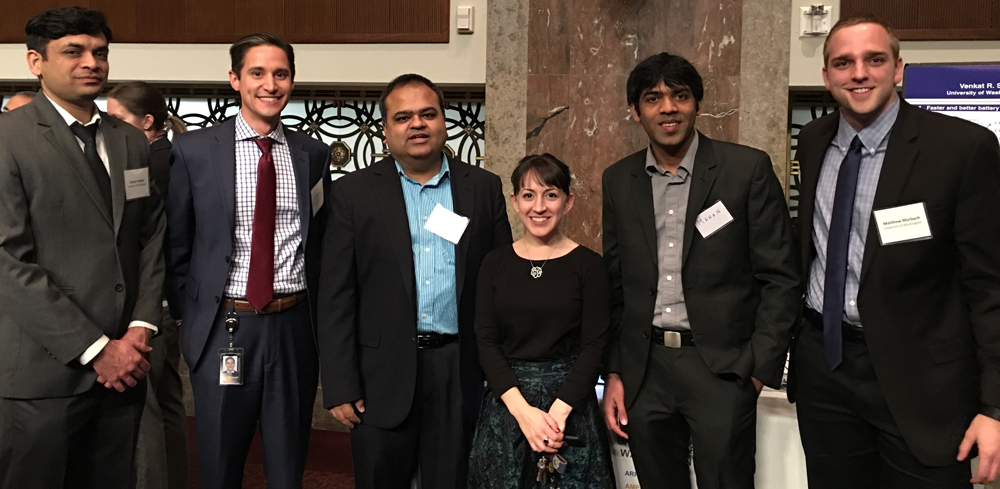 In collaboration with the National Renewable Energy Laboratory, Prof. Subramanian's group has successfully demonstrated improved life and reduced battery footprint for vehicle applications.
"We are proud to have developed perhaps the best possible algorithm for simulating the performance of batteries, which is 100% fail proof," Subramanian said. "This invitation is an honor and a recognition of our quest for moving chemical engineering models to industrial practice."
During the showcase, ARPA-E Director Dr. Ellen Williams (photographed with the UW team above) provided valuable feedback on the next steps and was particularly impressed with the student involvement on this project. She congratulated the students for taking the bold initiative of founding Battery Informatics, Inc., a startup company that will seek to commercialize the technology.  
"Innovation initiatives and entrepreneurship culture among the students will continue to play a significant role in research impact of many faculty members in the future," said Prof. Subramanian, who serves as the Chief Scientific Advisor at Battery Informatics, Inc. 
And certainly for the members of Battery Informatics, this showcase offered a first-hand experience in seeing how their research dovetails with policy and may shape America's energy future.  
Shoko Saji