Message from the Chair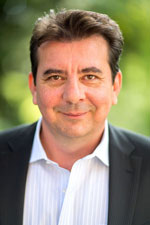 Perhaps you are visiting us because you are curious about what chemical engineers do. Perhaps you'd like to earn a degree from a department that emphasizes a relevant and empowering education. Perhaps you want to conduct cutting-edge research with teams that tackle some of the world's most pressing societal problems. No matter the reason, you have come to the right place.
From the chemical and biotechnology industries to the electronics, environmental and energy sectors, and from consulting to policy and law, our graduates are changing the world. They are scientists who dream up the molecules and products that improve the quality of our lives. They are engineers who design the processes by which these molecules and products are manufactured inexpensively, efficiently and at scale. They are entrepreneurs who identify new needs and bring innovative solutions to the marketplace. They are captains of industry, top educators and researchers, thought leaders and advisors to the nation.
Our undergraduate curriculum has been reinvented to seamlessly integrate molecular design and nanoscale principles with the continuum and systems-level foundations of the discipline. We recently launched a unique Nanoscale and Molecular Engineering option and offer concentration in seven specialty areas. Our students enjoy multiple opportunities for experiential learning through industrial co-ops and laboratory research, and can get a taste of entrepreneurship through our innovative capstone design sequence.
Our graduate students and faculty place a premium on creativity, innovation and sustainability. We are proud of their achievements and of the real impact of their research.
We invite you to discover how UW Chemical Engineering breeds knowledge and solutions for a changing world.  
~ François Baneyx